A new creative centre for young people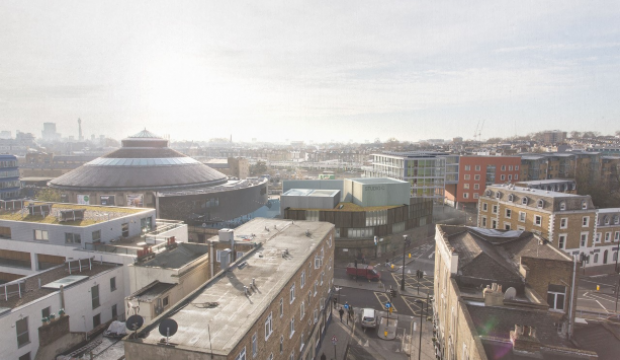 Back in 2017, we were granted planning permission to build a state-of-the-art creative centre for young people. No one could have imagined what the next four years would have in store for us all but what we're certain of is that this new building is needed more than ever.
This expansion to the Roundhouse site has a focus on developing leadership skills and supporting young people with their early careers of their creative businesses. At a time when youth unemployment is so high and young people are nervous about what's to come, we want this space to give young people hope for the future. The new building has been designed with this goal in mind of supporting young people into work. That's why there will be a co-working space that will have a dedicated community manager to facilitate collaboration and shared learning, as well as a programme of workshops to help people take their ideas and businesses to the next level.
There will be larger rooms for young creatives in the new centre which can be used for anything from rehearsal space for theatre makers to a space for local youth community groups. It also means that our music, poetry and circus collectives will have larger spaces to rehearse in. Alongside this there will be a podcast studio which will be led by Transmission Roundhouse, who will now have a dedicated space to make their award-winning podcasts, platforming diverse voices and enabling young producers and presenters to build their careers in this sector.
The Roundhouse already works with 7,500 young people each year in the Roundhouse Studios, a creative centre for 11-25 year olds, but this new space will allow us to work with even more young people each year – 15,000 by 2026. Importantly the space will also mean we can work with young people up to the age of 30, whereas youth services generally stop at 25. We can continue to offer opportunities whilst many young people are still finding their feet.
At a time when investing in the future might seem challenging and risky for organisations, we see it as vital. We want to show young people that we're investing in their future, that we believe in them and want to unleash their talent. We're incredibly grateful that other people share our commitment too. The Inflexion Foundation has generously donated £1.5m towards the new creative centre and this combined with all the money we had already raised towards this project, means we could give the project the green light.
The groundwork has started to clear the site ahead of laying the foundations and we're looking forward to keeping you updated on this exciting project and the next chapter for the Roundhouse.