Let me be your fantasy: Tom Rasmussen unleashes their ultimate night out at the Roundhouse
From Janelle Monae to Elton John: we celebrate
LGBTQ

+ History Month and the trailblazing artists that have taken to our stage.

We get off the tube at Camden. It's packed because it's Friday evening and everyone's out in full force ricocheting between the market, the New Rock shop, and the pub: buying nothing, obviously, except a pint. But it's fine because there's six of us, and we're meeting another six, and — as is always the case with the queers — we're late. We're hiding our tinnies under our dresses, even though somehow that makes it more obvious that we're drinking on the street, and we bounce up the road, up the hill, past plastic cars and giant statues of shoes hanging out of shop fronts as if they all landed there in some Camden-only apocalypse. "We're gonna get something pierced!" three of us decide, but the other three are too far ahead to hear us, and they're talking about the time we saw Amy Winehouse do an impromptu set at The Barfly, so we ditch the piercing, join in the anecdotes, and head to the Roundhouse. Usually we're the weirdest (and best!) looking people on the road, but tonight in Camden we're not. I wonder if this is the case every night in Camden, or if it's because there's crowds of people going to see Janelle Monae like us tonight, and everyone's dressed UP.

Check tickets, enter, the others are inside each holding two drinks because we don't want to miss a second of the show. Temi says we're here to see Travis Alabanza and Lasana Shabazz in Putting Words in Your Mouth, but I thought we were here to see Janelle Monae. "We can do both," Temi smiles and then we dive deep into the crowds of people and follow. Usually we wouldn't follow crowds, but we figure they're here to see something good, something brilliant and queer and for Us.

So we follow, and suddenly it's 2006 and we're being dragged into the main space by George Michael fans. We go with it. And on entry we find a spot, and we throw our handbags in the centre of a circle made by us as we lose our heads to Fastlove. But then someone I know, an ex actually, grabs my arm and takes me to the back of the big round room for a catch up. It's pleasant, sure, but the girls know we need to take a moment in the loo. So we do, a breather, and we reapply makeup while the whole place gets involved in my relationship drama. "Yes, they invited me back to theirs." Everyone's agog, Hatty drops her lipgloss. "No… I'm not going!"

We dash back out — "it's our favourite" — and onstage is Robyn doing a killer rendition of arguably her best song Time Machine. Well, I think it's her best song but others think it's Indestructible — which she plays next.
As we dance, we think of all the queers who've moved here on this spot, to their idols, their icons, their reflections on stage: Of Elton John doing Rocket Man, of Tracy Chapman doing Talkin' Bout a Revolution, of Patrick Wolf doing Home, of Lady Gaga doing Just Dance. We breathe it in, deep in, and we feel all powerful and all blessed to be queer.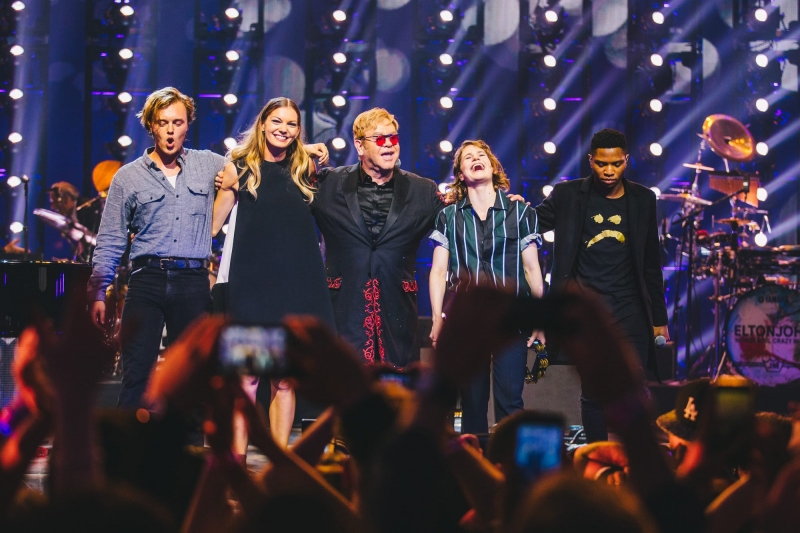 Amrou checks their phone and we realise we're late for Scottee's Camp, which is on in twenty minutes in the studio — so we grab our purses and run through the corridors to the studio where Lady Leshurr is in the middle of an epic rendition of the Queen's Speech. It's so cool, and people are up in their seats, agreeing with so much of what she's saying that they feel compelled to stand up in their tottery heels. It's fine, I'm still sat because my feet are killing me, and so if they topple over they can do it onto me.
The show ends and we all have that momentary feeling of both disappointment and resolution: thrilled we saw it, more thrilled we get to go the bar and discuss it, sad it's over. We don't have time to get a drink though because there's a bustle as Munroe Bergdorf and seemingly everyone we've ever kissed enter the building for the Attitude Awards. We sneak in to the back, before we're all presented with an award for most chic, most cool, most gorgeous.
The speakers are blaring, the bass is vibrating the floor, we dance to-and-fro, around our handbags like our mums taught us on the regional dance floors in the regional pubs, and for a moment our presents are connected with so many queer histories: of our forebears dancing on this very spot, of Grace Jones belting on that very stage, of Le Gateau Chocolat singing in the deepest, richest voice you've ever heard in that very studio, and our stories untangle and we become part of something big. Bigger. We make history with our heels which tap in time to Janelle Monae singing Pink.
About Tom Rasmussen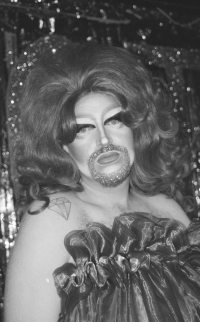 Photo © Jordan Noon
Tom is an author, journalist, screenwriter, drag queen and more. Growing up in Lancashire and moving to London to write, Tom's memoir DIARY OF A DRAG QUEEN has been published in the UK and US to a rave New Yorker review, and Tom is currently adapting it for television with Wildcard Films.