Greetings from Manchester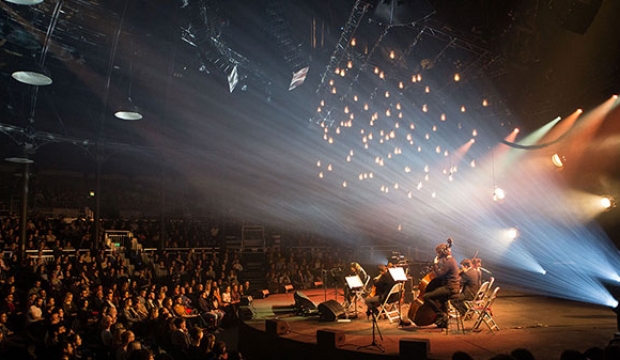 Jane Beese joined as the Head of Music at the Roundhouse in 2015 but just a few weeks ago she moved up to Manchester to take on the Head of Music role at Manchester International Festival. She's handed over the Roundhouse music team reins to Lucy Wood but we wanted Jane to share some of her highlights with you all to relive some of the best music moments over the last five years.
It's just been a few weeks since I left my much loved job at the Roundhouse and I wanted to share with you some of the highlights of my time there – I'm sure you will remember some of them.
We are living in strange times and the ease with which we were allowed to enjoy live music has been completely curtailed. Who knows what the live music industry will look like on the other side. We know that some venues, promoters and booking agencies won't survive this crisis and I urge you all to support our venues as and when we are allowed to put on our dancing shoes again.
I started my job as Head of Music at the Roundhouse in September 2015 and the show on my first day of work was Despacio. What an incredible, immersive, site specific event to get me up and running. In my second month of employment Patti Smith returned as mighty as ever to play two nights at the venue she first played in London in May 1976. That autumn we also hosted the first of two nights of Suede which was the night of the Bataclan attack in Paris – on the second night they made a touching tribute to Paris and the drop out rate of gig goers on the show was significantly lower than usual.
The main reason that I wanted the job was the Roundhouse Studios and the work with young creatives. To be able to step away from the office and descend down into the studios and hear all that music being made on a daily basis was a real inspiration for me throughout my time. The work that the team do to encourage young artists and practitioners into careers in the creative industries is second to none and it's flattering that so many other organisations are now running programmes which look suspiciously familiar to the Roundhouse team.
To be able to step away from the office and descend down into the studios and hear all that music being made on a daily basis was a real inspiration for me throughout my time.
Once I'd got my feet under the desk we decided to embark on a new Roundhouse produced programme of work called In the Round which has now been going for five years. In the first year Camille O'Sullivan, Gaz Coombes and Edwyn Collins all paid tribute to David Bowie with beautiful covers. One of the most memorable shows of that series was Marianne Faithfull, back on stage at the Roundhouse for the first time since she played Ophelia in Hamlet in the sixties. She was a great raconteur and reminisced constantly. At the end of the show one enthusiastic heckler shouted "tell us a story Marianne" from the back of the room and without missing a beat she responded "I've been telling you a f***ing story all night darling". Absolute legend.
Early in 2016 we were lucky enough to have multiple nights of several artists including Radiohead and Father John Misty and in the summer we brought back Ron Arad's Curtain Call installation into the main space and programmed lots of wonderful playful music into that unique space working with Matthew Herbert, Gaika, Dan Deacon, Eska and the London Contemporary Orchestra. All responded to the brief admirably and used the space in imaginative ways with multiple stages. In October that year we nearly broke ourselves by staging a conference and multi-stage festival in one day to support Music Venues Trust. And we finished the year with a run of great gigs including Kate Tempest and Adam Ant.
The next few years blur into one enormous joyful festival for me with incredible shows with Little Simz, Ghetts, Frank Turner, Mr Eazi, Nadine Shah, On Mass with Angelique Kidjo, Young Fathers, Nadine Shah, Angie Stone, Janelle Monae, Nick Mason, The Pixies. One particularly memorable night was with Little Steven. I wasn't planning to come in for the show until one of the team mentioned that a certain left handed bass player might be getting on stage as a special guest. And sure enough Paul McCartney joined the show. Another classic Roundhouse moment.
The next few years blur into one enormous joyful festival for me…
The last year or so has produced some real highlights as well with Patti agreeing to come and be part of In the Round 2019, alongside the legend that is Ronnie Spector who agreed to doing three tracks with the backing of the incomparable Roundhouse Choir.
Fast forward to Loyle Carner who was a Roundhouse studio user, Mavis Staples, Van Morrisson, Metronomy, Mahalia, Ezra Collective and three nights of Madness just before Christmas.
The last big event I was involved with was the BBC 6 Music Festival which was a wonderful weekend celebration of the best of contemporary music from the wonderful Brittany Howard to a mesmeric and historic Kate Tempest set closing the show.
I will miss the venue, my incredible colleagues, all the supporters, all the young creatives, the ethos and heart of the place, immensely. I hope to see you all again soon when we can raise a glass and enjoy the communion of gigs. Until then stay safe and lots of love from Manchester. Jane x