Sight & Sounds: young people collaborating with artists in our studios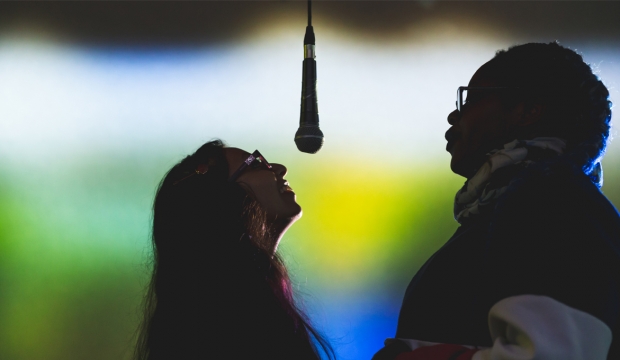 Sight & Sounds is a series of creative programmes where young people explore audio-visual practice. The programme began earlier this spring with a series of collaborative workshops facilitated by a team of audio and video artists, including the Light Surgeons' Christopher Thomas-Allen and Mike Brooks, London-based musician and composer.
London artist and writer GAIKA approached the Roundhouse ahead of his Rising Festival performance to collaborate with the Sight & Sounds group, asking them to respond to his 'Beyond the Spectacular Empire' essay, and to ideas of utopia, using audio-visual elements.
We caught up with Timalka (25), Nina (25) and Aliyah (21), three young people involved in the Sight & Sounds project, as they live-mixed their visuals and sound in an installation in the Hub earlier this October.
The public will have one more chance to see their mesmerising blend of visuals and sound as part of
GAIKA
's Roundhouse Rising set next Tuesday –
get your tickets here.
What was it like, working with an artist like
GAIKA

?

Aliyah: It's been a really reflective process. GAIKA initially introduced us to his vision, taste, and overall work. He shared his 'Beyond the Spectacular Empire' essay and asked us a really thought provoking question at the start of the project – 'if you could invent one thing right now, what would it be?' That's what sparked the project for a lot of us.

Timalka: It's been amazing to work with an artist and learn how to manage your own tastes as well as theirs.
Working with an artist like GAIKA sort of breaks down the barrier between what is and isn't 'finished' and professional.
Nina: There's always such a division between the two but you realise that it's not a massive leap. And now our work will be in the main space with him!I It's also been really cool to have the artist right there, explaining his work and process. We went to his studio at Somerset House in the first week of the project where we saw his work, VDMX, equipment, and general workspace. I like how he brings a lot of disciplines together, he's really open-minded.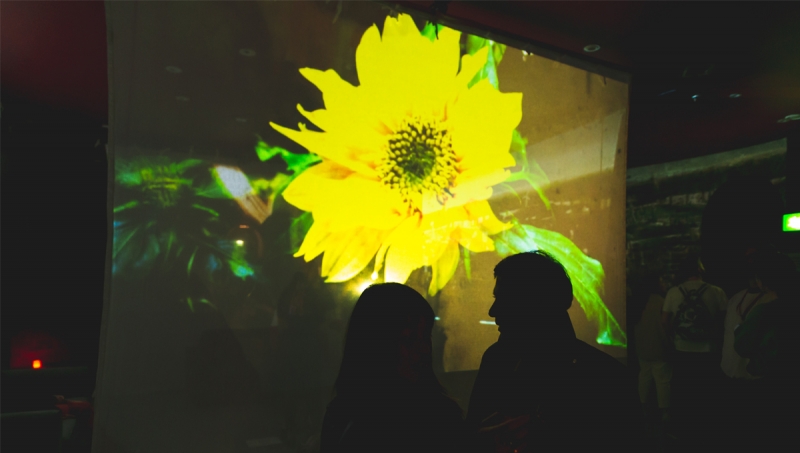 All photography by Lloyd Winters
What did you create?
Timalka: Everyone made a few videos that we brought together for the installation – it was quite collaborative. As well as my videos, I set up an installation. I ask people to close their eyes, think about their wishes for the future, and blow into a microphone. Then based on the sound frequencies, and using light projection, dandelion seeds float in a unique pattern on the bricks of the Hub. It's kind of a therapeutic release piece designed to make people think about what's important to them.
Aliyah: My idea was quite ambitious for the time I had – it was about life, pace, and what the barriers are between utopia and our current situation. I interviewed a lot of people, and my main theme was that utopia isn't really about 'you', it's about all of us – and a lot of people don't really realise that. We're constantly targeted with ads about our individual wants, thinking about ourselves, so much that we forget about our communities and what they might be lacking.
This project really made me think about things outside of myself.
Nina: GAIKA's essay made me reflect on my own life – what my story is in London, and how that responds to things like the government right now. With politics, it's sometimes so overwhelming and I can easily avoid it or try escape it. But if you don't properly engage with it and inform yourself, you can be easily swayed into what people want you to think. What box they want to put you in.
As young people especially, you sometimes feel like you don't really know where you sit, and you don't have power. But actually you do.
So in my work I looked at what I do to escape – I looked at my daydreams, my dreamworld, and focused on the images that come up in that moment. I combined green screen, drawings, video footage and put myself in a few of them to show movement. I layered them up using iMovie with the aim of blending real life and fantasy elements to recreate the images within daydreams.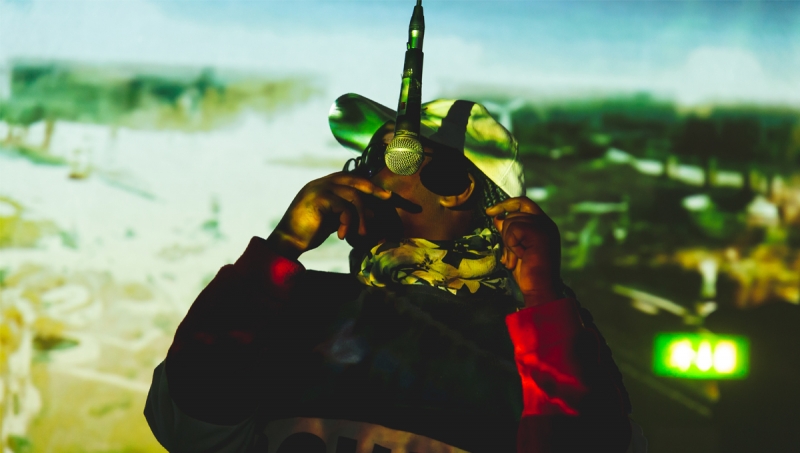 Did you have prior sound or visual experience?
Timalka: I studied computer science but this is completely new to me! I got really into the programming side of it as it's way more creative compared to what I've done in the past. I haven't really done a lot of work with video – this was my first time and I'm keen to develop that a bit more.
Aliyah: I'm currently studying Art Direction at ual, and I'm self-taught in photography and film with some experience in animation but never to this degree. I've learnt how to use VDMX, Zoetrope, put on an installation… This course pushed me in the direction of a lot of projects and ideas I had previously, but didn't know how to bring to life. Now I finally do!
Coming here and having tutors who can tell you what things are, what VDMX is, and finding out that you don't need to be an expert in any of these fields – was amazing.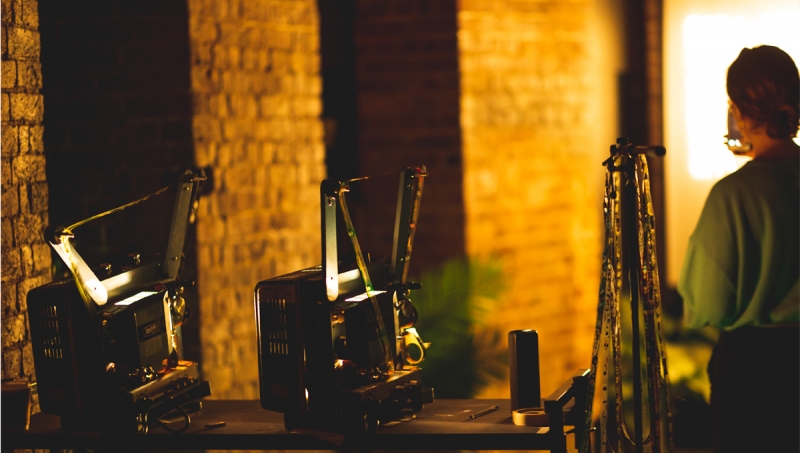 What did you enjoy most about the project?
Timalka: The tutors have been really supportive, and shared so much with us. I'm still quite new to everything, so learning how to use Mac software, and getting a bit more creative to make my ideas a reality has been amazing. We've basically learnt how to put on an event as well – the set-up of the installation, planning the room, making a tailor-made feature has been really cool.
Aliyah: Being on this course has shown me how important process is – the parts where things come together. You're learning around and with other young people, learning to think about others responding to their ideas. It also wasn't just about creating something but delving into ourselves and bringing ourselves to the project.
You can gain a lot from talking to people about your work and share more, instead of being insular. I've really learnt that.
Nina: This project helped me get out of my head, and made me see how others work. Having the opportunity to see things on big screens has been amazing. Also having access to software and an installation team – all of a sudden you realise you can use all of this stuff!
Aliyah: The one thing I really picked up on this course is that there's no hierarchy – the dynamic was very chill, we were all producing work together. This project also stripped away the conventional ways of making art – we were making pianos out of paper at one point, stuff I didn't think was possible!
When I'm here I feel like a kid again that's growing and learning.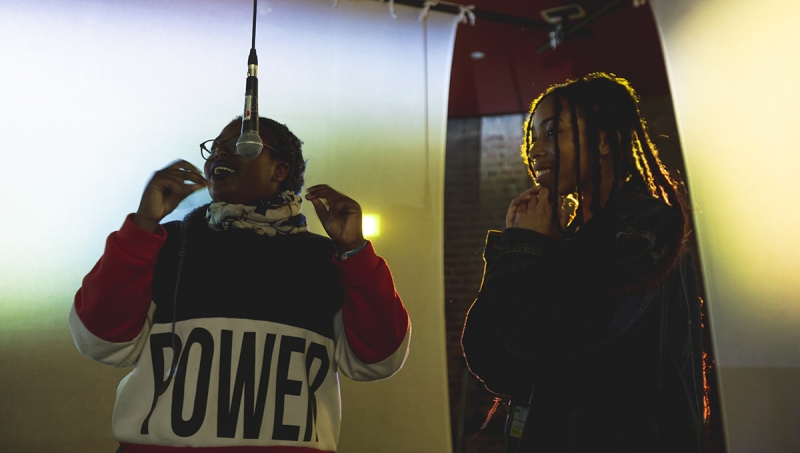 Nina: It's definitely felt like we became friends and just had a little community. Having something you can go to every week, see the same people, and work together on something. I also really felt like the tutors were really rooting for us.
Aliyah: You feel like you can be yourself here. Especially on this project, dealing with the concept of utopia, which is quite deep and everyone has different opinions on it – sometimes you can be scared to share your opinions but the Roundhouse has been so safe and supportive. When I say safe space, I mean it really has felt safe, everyone is really genuine and well-informed. There's a lot of acceptance, and it feels really diverse. Really, the best thing about this project was the environment – it's felt like we were just friends hanging out and the things we made came out really organically.
Every creative and emotional idea has been really listened to. I really love this place.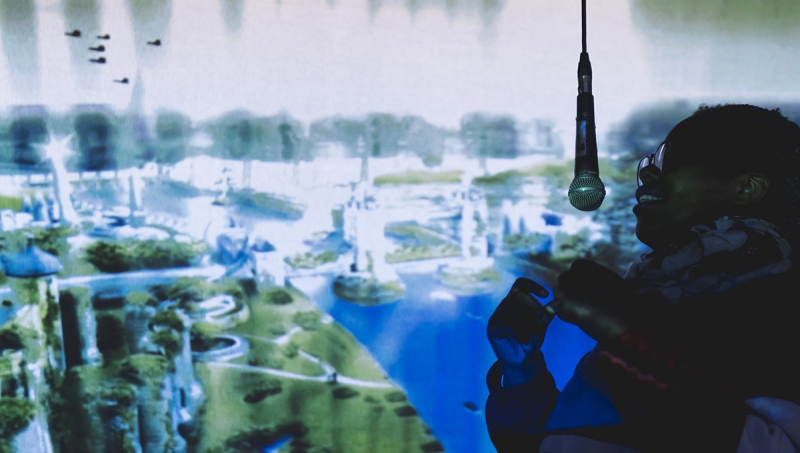 What's next for you?
Nina: I'm definitely going to use the skills I've learnt on this project in my other work as a Resident Artist. I've wanted to make more videos, use green screens, and I can now do things that I thought were so difficult – but actually they're not.
Timalka: I've realised that I can use my programming knowledge in a much more creative way and I've been exposed to so many different ideas and approaches to create audio visuals. It would be amazing to do this professionally and see what will come out of it the more I develop.
Aliyah: A lot of ideas for projects and collaborations have come from this course. I'd like to focus on spaces and environments and bring DJing, VJing and installation together to make sound more immersive.
Also push forward more political work, and just talk to people more – in interviewing my friends I realised there's so much I don't know about them. I asked them things like 'What did you want to be when you were younger? What's your biggest fear? What makes you feel trapped?' It was beautiful because you can really learn a lot about people. And yourself. Now I have the practical skills like VJing, VDMX, and installation to make my ideas happen.
See their mesmerising blend of visuals and sound as part of GAIKA's Roundhouse Rising set next Tuesday – tickets available here. .