Forty-Eight.One: Director's Blog
Patrick Nicholls opens up about what goes on behind the scenes as director of short film 'Forty-Eight.One' (watch above). Produced as part of the And Now What? Film Fund.
How can you expect other people to get your vision when you don't understand it yet yourself?
Process
The process of making this film has been one very strange journey. It was an idea that for over a year I just couldn't get right, a story that wouldn't resolve itself. I know that other Writers and Directors reading this will have shared that same frustration at not being able to express your ideas, you feel helpless, as the ability to express a vision is key. I applied for Roundhouse's 'And Now What Film Fund' last year with (in hindsight) a weaker, different take of the same subject and wasn't surprised when we didn't get it.
The longer my film went incomplete, the longer it sat there as a reminder that I didn't yet understand my own feelings about this country at a moment of increasing right leaning populism.
But then, Brexit and Trump happened. And the world woke up.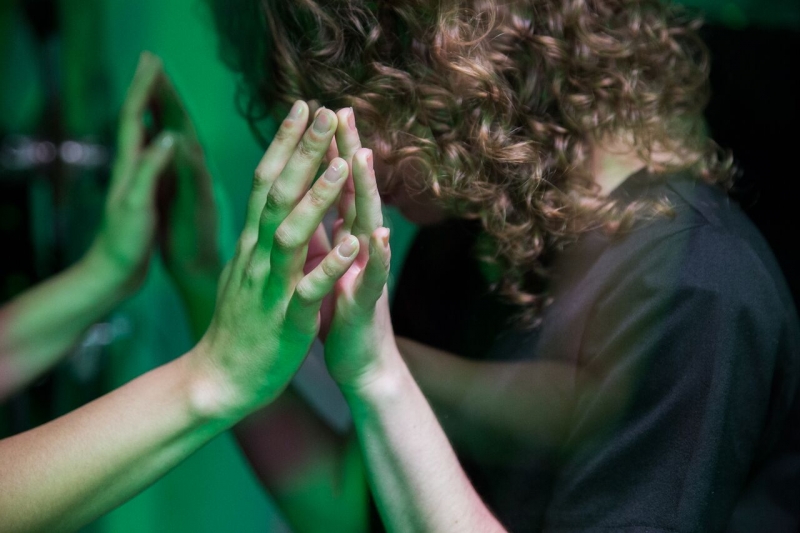 Still from the final film, two people touching hands through glass
I've learnt through the making of this film that as an organisation, that is what Roundhouse are all about at heart – helping young artists find their voice. It's almost a little touch of utopia in a difficult world where if anything, the voices of the young have been hushed. This was one of the first of several occasions on this film that I realised a common goal does exist and if used right, it's a beautiful thing. I want to thank Nandita, Onyeka, Natalia and the Ex-Animo Foundation for trusting us and giving us a chance. This film may not have ever been made without them giving us this opportunity.
They'd given us a chance to grow, to learn and to have our voices heard.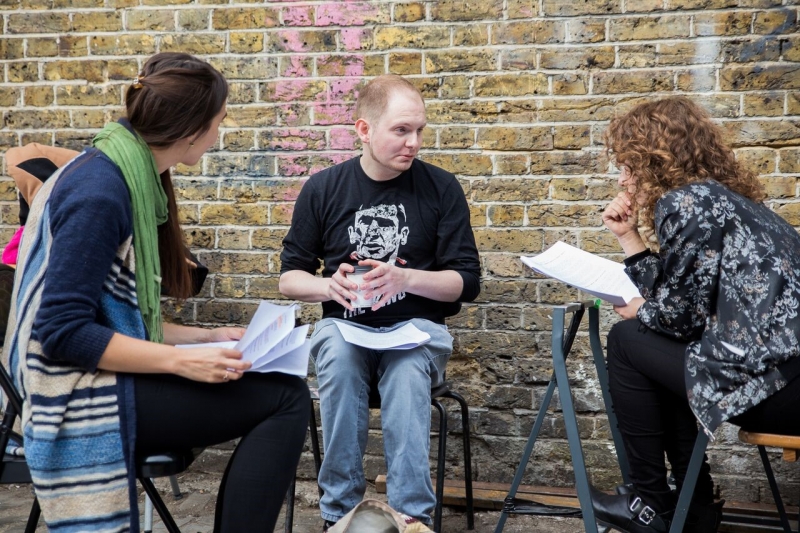 On location, Patrick discusses scenes with the stars of the film, Amelie Edwards (left) and Zuzana Spacey (right)
Actors
Actors bring out beautiful elements of your work that you couldn't have dreamt of yourself, go with it and see where it takes you. The lack of dialogue in the film made the audition process a challenge, as most of the previous films I'd made had been relatively dialogue-heavy. I created an exercise focused on having a person auditioning for each role – one English, one Eastern European – standing opposite each other, discussing how they felt about certain phrases I called out that were used during the Referendum campaign. Gradually, elements were added to stifle their ability to verbally communicate, such as "imagine there's a wall between you".
They had to adapt to the situation around them, while the intensity of the phrases reached a peak and they were being pushed further away from each other. The results were probably the most moving experience I've had in several years of filmmaking. Two strangers from different cultures discussing how they feel in modern Britain made me discover more about what this film needed to be about than any research I'd done up to that point. It was strangely cathartic and a very sobering realisation that all is far from being lost. I knew straight away that Amelie Edwards and Zuzana Spacey, who are the stars of the film, were perfect for their respective parts. I can't thank them enough for bringing out the humanity and emotion in what is a complex world we created in the film.
Filmmaking is not a one-person machine. It is a community. It's about working together for the common good. I feel like there's a lot of lessons that could be learned from that not only on other film sets, but in this modern world we are living in.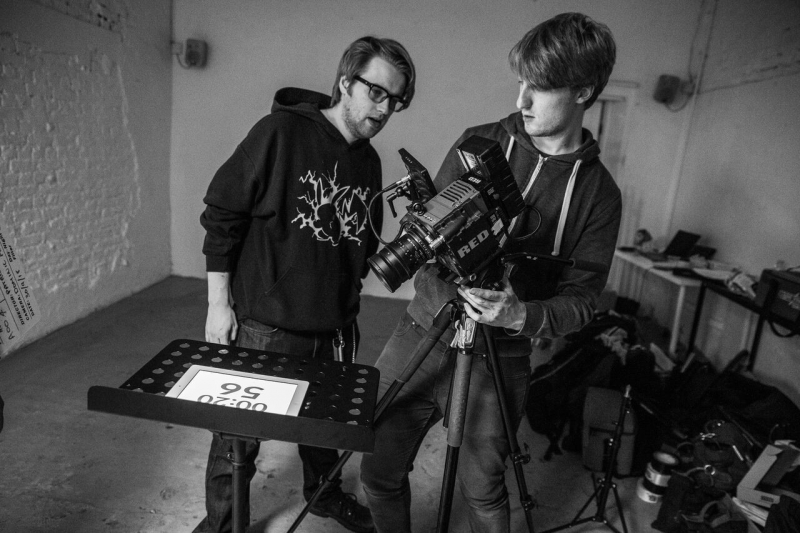 Sam Rolfe (left) and Dominic Howlett (right) set up the next shot
The film crew that worked on this film are consistently present in every one of my films: Dominic Howlett (Director of Photography), Sam Rolfe (Editor); and Ivan Eastley, (Sound). They are collectively and individually the most talented group of people I could have ever found to work with. They deserve a lot of credit for the way they bring these visions to the screen as powerfully possible. I'm indebted to them for trusting me, for giving every ounce of their experience and skill to help us bring this to life. You need a village to raise the child that is your film.