Hive City Legacy: Meet the Femmes
We've teamed up with Lisa Fa'alafi and Busty Beatz of Australian sensation Hot Brown Honey and hip-hop artist and choreographer Yami 'Rowdy' Lofvenberg to recruit and mobilise a fresh troupe of Femmes of colour to perform in a riotous new show this summer, Hive City Legacy.
Now, 250 applications and a tough recruitment process later, we meet the Femmes behind the show.
Hey everyone, how are you finding rehearsals so far?
Dorcas: Really fun, challenging as a stimulant for growth and liberating as an opportunity for us a community of Femme artists of colour. Everything we do has honesty and weight to it that pushes every soul in the room to be their authentic self.
Krystal: I am enjoying them so much. I'm loving the fact that we are being challenged in every way possible. It's beautiful being in a room with such amazingly creative women of colour. Sharing and exploring. It's a really special environment.
Sherika: We have been given a lot of tasks that push us in expressing ourselves in different ways but haven't been told where exactly this will take place in the performance, everything is becoming a new discovery waiting to fall into place.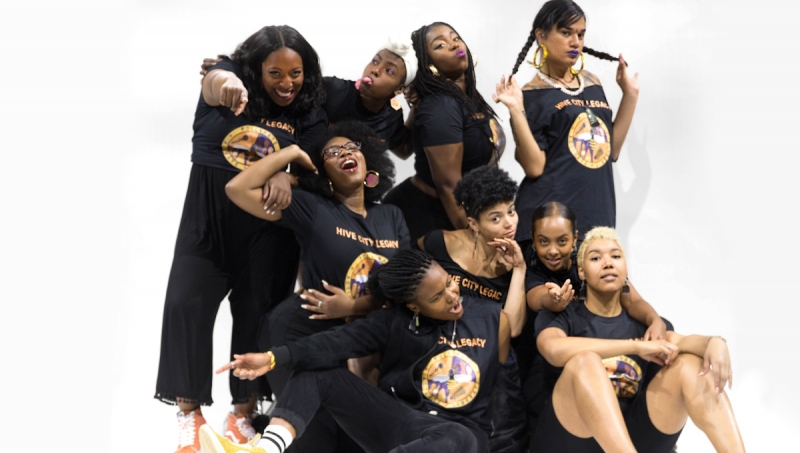 Image © Shingi Rice
What does Hive City Legacy mean to you?
Rebecca: It's a community I feel I haven't been a part of before. In the arts, dance and theatre, as a woman of colour, I often feel tokenistic. To be able to tell whichever story I wish to without fear, judgement or lack of understanding is very important to keep the conviction of what I am doing.
Koko: Playwright Lin-Manuel Miranda wrote 'What is a legacy? It's planting seeds in a garden you never get to see.' That's what Hive City Legacy means to me.
It's the feeling of, not only creating something bigger than yourself, but creating something that will outlive you.
Aminita: To me its an ideology. We're working together towards a common goal of creating an inclusive world.
What's the most important thing you want audiences to feel/takeaway from the show?
Farrell: To be brave! Run into the darkness with your eye closed and possibly blindfolded.
Elsabet: I want the audience to feel the power of Femme energy. I want them to see our light so they can see it in themselves. I want them to feel transported in to a matriarchal world they've never visited before and leave feeling like there's no going back.
Koko: I want them to feel a sense of togetherness, even if it is just for 75 minutes in a room full of strangers. I want our audience to leave feeling that, if even for a moment, things are okay.