'There are only so many one dimensional stoner riffs you can write before falling asleep...'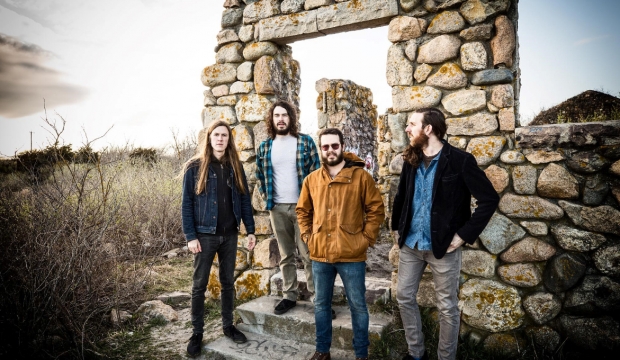 In a Camden-wide takeover on 6 May, DesertFest takeover the building with headliners including Monster Magnet, Hawkwind and Boston based heavy metal band Elder.
Ahead of the festival, we catch up with Nick from Elder on establishing their sound, touring and favourite bands.
Hi Nick, how did you all meet?
The three founding members of the band, Jack, Matt and I are childhood friends. Jack and I have known each other since elementary school and started playing music together at a pretty young age. Since we lived in a small community in Boston, there weren't many kids into playing music and much less so for genres like punk, metal and the stuff we were into. We met Matt through that scene and played in a series of bands ranging from black metal to sludge, until finally founding Elder in 2006. Mike, our fourth member who joined the band just last year, is a friend I met while at university. He came from a very different musical background than us but is an incredibly talented musician and when the time came to introduce a fourth member he seemed the logical choice to help keep us progressing.
Sounds like a pretty cool journey. How would you describe your current sound in 3 words?
Heavy – Psychedelic – Progressive
You've been praised for your experimentation with psychedelic elements in your music, what led you towards this kind of sound?
When we started the band we had very primitive intentions of being the heaviest band in our small local scene. There are only so many one dimensional stoner metal riffs you can write before you start falling asleep while playing. We started jamming more and more playing in different directions – I'd say our move towards a more psychedelic sound was a completely natural progression as our musical interests diversified.
You have had a long relationship with Desertfest, having been involved from the early days – how does it feel to have worked your way up to now being on the Roundhouse?
In some way it's strange but in other ways it feels normal, but in any case it's exciting. We spent so many years playing tiny or nonexistent stages that to arrive at Desertfest and play the Roundhouse is an exhilarating idea. We always have the feeling at Desertfest in particular that we're in some way connected more to the audience than usual, be it in a huge venue or at the Black Heart. It's cool that the positive atmosphere translates also to large stages. I also won't complain that we play early and have some time to party, catch up and see other bands for once!
Any bands you're looking forward to seeing on the DesertFest line-up?
I've never managed to see Monster Magnet live so I'm definitely looking forward to them. Also Nebula, Hawkwind, Suma, Kind (Matt's other band!) and the Necromancers are all on my list for Sunday.
What other bands are you loving at the moment?
My current favorite band are Norwegian proggers Needlepoint, who are putting out a new album very soon. Other bands I'm digging right now are Minami Deutsch, The Amazing and Malady, all of whom put out new albums this year.
What do you think is so special about Desertfest?
Sounds clichéd, but good people. We've built up a very special relationship to the people running the festival and always have such a hilarious and great time, and the whole atmosphere among the attendees is just magic. I've always especially enjoyed festivals that aren't confined to a single area but spill out into city streets, and seeing the metalhead takeover of a few blocks of Camden is ridiculous. Not to mention we're always running into bands and fans we know every few steps so it feels like a crazy family reunion every year.