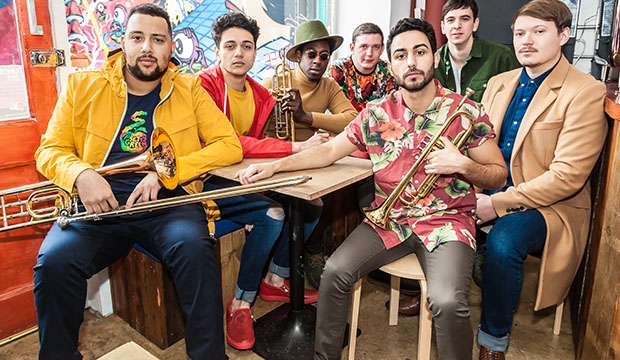 Discovering a new artist or a band can be the best feeling, almost like you discovered them… until everyone starts saying "Have you heard this new band?" and you heard them years ago, but before the 'laggers' catch wind of it, that feeling of discovering new music is like finding your diamond in the rough.
We caught up with Charlie Davey, Project Manager at record label Full Time Hobby, to tell us what new music we have to hear right now (remember – keep quiet about it!) and where to go to discover more.
Top 5 artists to listen out for
Building Instrument
A Norwegian experimental, ambient, jazz band who've released two albums, the more recent of which is Kem Som Kan å Leve that came out last year. It's spatial and often quiet music, constantly heads in strange directions. I love the creaks and snaps and pops in the recordings.
The Saxophones
From Oakland, California, this band have only released one 7" EP so far called If You're On The Water. It's made up of three purposely slow, spacious, atmospheric tracks, which could fit onto the first Low album. They're due to make their UK live debut this September in support of Michael Nau & Micah P. Hinson. The first Saxophones album is being recorded this summer, so keep your eyes peeled.
Katie Von Schleicher
If you've ever wanted to know what Dusty In Memphis would sound like if it was made today, then you're in luck. Take in everything that's happened in the last 50 years, throw in some hiss and wobble, call it something self-deprecating like Shitty Hits and you've got KVS' debut full length. She toured with Aldous Harding earlier this year and will be back again in the Autumn. Shitty Hits is out 28th July.
Ed Dowie
Ed has been in bands before now, most notably Brothers in Sound who put an album out in the early noughties called Family Is For Sharing, a lost classic which should be heard by all. His excellent solo album, The Uncle Sold, came out earlier this year on Lost Map Records and boy it's such a delightful listen, filled with magic and unassuming charisma from the main man. If you dig Robert Wyatt and The Beta Band, get this down your ear 'oles. And go and see him live, you can't help but fall in love.
Housewives
My favourite London band right now. Where the previous bands in this list have some kind of semblance of structure and form, Housewives are built on absolutely not having any. Repetitious, taut, spiky guitar loops play over corrugated iron drums, drilling and drilling further into your ears. Gang Of Four and Wire started this but Housewives will finish it. Think of it as the antidote to Ed Sheeran headlining Glastonbury. And go and see them live. New album out on Rocket later this year.
Top 5 places to discover
This is London, the number of places to discover new music is almost infinite, but to avoid being overwhelmed and confused by a paradox of choice, here are some starting points:
Café Oto
More of the avant-garde, jazz, noise style but I guarantee you'll hear something new every time, the programming there is insanely good. It is places like Café Oto which make London such a great place to live.
Roundhouse Rising
I couldn't mention places to find new music, without mentioning the Roundhouse could I! Roundhouse Rising is an important new music filter and the next one is 21st July, get down and open your ears. There appears to be exponentially more and more music every week, so we all need to be told what to listen to from now and again. The next one is 21st July with an awesome reggae band called Kioko. Get down and open your ears, with tickets at just £8, there's no excuse.

The Shacklewell Arms
The modern classic of venues – the stage is awful (the drummer will normally sit in an alcove at the back of the stage) but boy this place rules. I used to live just around the corner and would go there most weeks. Countless bands have played their first London show there. I don't think the Amstel has gone up in price in 7 years either.
Online
For gig listings and events, both Songkick and London Ears are your friends.