Introducing: Resident Artist Antosh Wojcik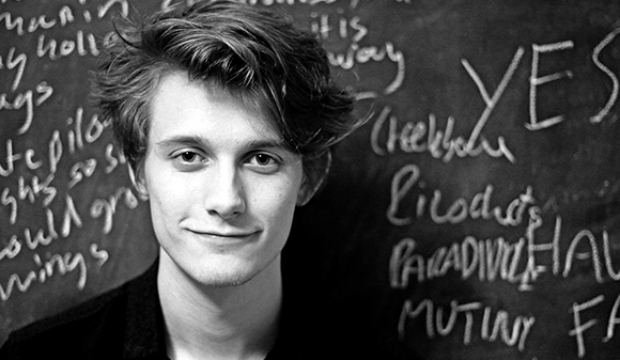 Our Resident Artists Programme offers support and opportunities for emerging artists aged 18-25 to transition from our Creative Programme into the creative industries, working across art forms including circus, cabaret, theatre, spoken word, music and radio.
We put the spotlight on performance poet Antosh Wojcik, who talks to us about his experiences as a performer, becoming a Resident Artist and his career to date.
When did you first discover your love for poetry?
I went to a space 4 years ago to share some work with friends and I witnessed them share their own material. We all melted with our hearts in our mouths and laughed a lot – people clapped and we drank and didn't get home until late. I woke up with nine ideas to write for the following week, and this hasn't faltered since.
What are your influences?
For writing, it's Selima Hill, Miranda July, Bob Hicok, David Berman. For performance, Stewart Lee. For music, Portico Quartet, Bjork, Flying Lotus. For film/video, It's Such A Beautiful Day by Don Hertzfeldt and Adventure Time. These are always changing though.
Sum up your performance style in 5 words?
Risks. Trusting. Naked. Conversational. Surrealism.
How have you been involved with the Roundhouse?
I was part of the Roundhouse Poetry Collective from 2013-2014, shortly after joint winning the Roundhouse Poetry Slam with Ronak Patani and Ben Norris. I was mentored with 15 other poets by Bohdan Piasecki and some guest poets along the way. We learnt how to collaboratively grow poetry and help each other with our writing and life struggles.
We carried on as Resident Artists at the Roundhouse from 2014-15 as Kid Glove Collective and performed at Bestival and Camp Bestival in 2014 which was mad fun, sharing a stage with the big names in performance poetry, as well as mingling with the audience of a festival and getting blasted by music of all shapes. We also performed around London doing different events and were sponsored by the Roundhouse and Mouthy Poets to visit Nottingham and take part in Say Sum Thin 7, one of their huge showcase events, orchestrated by Lucy Scott and Deborah Stevenson. We wrote a show called Dear Adventure and performed it as part of The Last Word Festival 2015.
Through the mentoring of Deborah Stevenson and Deanna Roger, I was a part of the Talking Doorsteps project in 2015, where I made a poetry film about Home with international poets Sara Sabai and Pieter Odendaal. In June 2015, I travelled to Sofia with Sarah Perry (Kid Glove) and Sylvia Harrison (Roundhouse, Call To Create) to perform and lead workshops with young poets there as part of Sofia Poetics, an international poetry festival. I also performed at the launch of the stunning BBC 1Xtra: Words First project, – and for several funder events over my time being a part of the Roundhouse family.
What have been your career highlights so far?
Performing at festivals and getting to know a whole smash of people I would never meet. Teaching classes of school kids how to make a poem and to then see them stand up and be blown away by what they've made. Being asked to lecture in poetry at a university. Curating my first podcast with Will Tyas as Post-Everything. Writing a show about dementia and Alzheimer's and combining my reciting of poetry with my drumming.
How do you find opportunities as an emerging artist?
Apply for schemes that concern your craft at a variety of venues, i.e Roundhouse, Southbank, Barbican, Ovalhouse etc. Get in touch with arts organisations like Apples and Snakes (for poetry/spoken word) and The Arts Council, they want to help you at every stage in your career. Tap into networks on Twitter. Scan through Arts Jobs and sign up to ArtsAdmin newsletters. Go to events, make friends and don't be scared to talk about what you want to achieve.
Be friendly. Make your art accessible on the internet via blogs, Facebook, YouTube, Soundcloud, Instagram and post up what you're working on fairly regularly. Never know who might tune into your noise.
How has being a Resident Artist furthered your artistic development?
It's highlighted to me the strength of collaboration. Building trust with an organisation such as the Roundhouse really pushes my art to develop beyond my mind/journals/bedroom. It's built my confidence and trust in myself. It's affirmed to me that I can make a living from poetry and performing and pursue the life I've decided to live. It's given me a diverse range of projects and opportunities that I never knew would benefit and change my writing. It's flexed my hard-work muscle and my creative muscles even further.
Any advice for performers just starting out?
Read. Write. Edit. Read more. Write more. Edit more. Never get comfortable. Collaborate with other artists – both inside and out of your discipline. Trust your voice, don't be someone else, you're best at learning who you are and showing this to us. Perform in different ways. Say yes to things. Learn to say no to things. Never allow yourself to stop learning.