Punk gave me confidence as a young Black woman to break the mould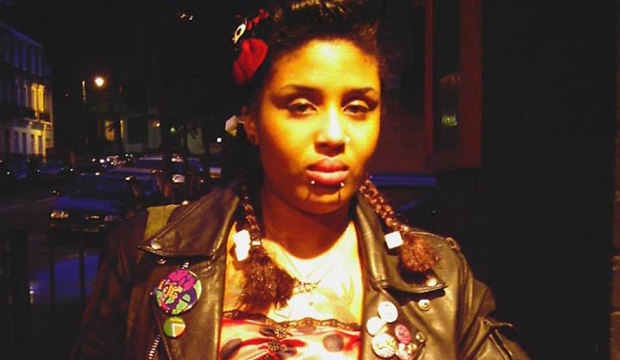 As our Punk Weekender is fast approaching on 8-10 July, we asked activist, cultural producer and Punk London co-ordinator Chardine Taylor-Stone to takes us on her punk journey through Camden Town…
This a picture of me on my 21st Birthday, 5th July 2006 leaning on the window sill of my regular, The Good Mixer pub, Inverness Street in Camden Town.
At the time I worked in a vintage shop in the Stables market and lived on Camden High Street in a crap room that used to shake every time the bus went past. Camden felt like a village, instead of waving to the postman I'd be bothering the bloke downstairs selling fake band t-shirts to get my favourite band in and stopping for chats with the punks on the bridge known locally as the Camden Bridge Rats. Amongst the grit, grime, cheap cider and hair dye it was a place with an attitude that formed how I view the world today.
What brought me there in the first place was pretty simple; I wanted to get to gigs easier! I would see at least one band a week often at the Underworld which was usually followed by drinks in The Good Mixer. Inside you'd find one side of the bar filled with a mix of market traders and indie kids, the other side the punks. The younger set of punks would often end up at NASIN an acronym for Not Another Shit Indie Night. To understand the name it pays to remember that around that time The Libertines had taken over London and there were waifish men with floppy hair, skinny jeans, brogues and plastic rosaries colonising everywhere. I don't remember the term Hipster being around then if it was it was definitely a sneer towards East London that to us seemed overly pretentious, arty farty and just a bit "Nu Rave".
My change in musical tastes sounds like a pub crawl through Camden. As the punk kids from the bridge got older and more into vintage sounds like Rockabilly and early reggae we moved onto The Elephants Head. Some of us became rockabillies others moved into the mod and skinhead scene. Gigs at the Underworld were swapped for Rockin' all dayers at Dingwalls and after work Sunday drinks at The Hawley Arms turned into daytime dancing at Nitty Gritty across the canal at The Constitution. All the different subcultures would congregate in a early morning haze at the Marathon Bar. A kebab restaurant near Chalk Farm that strangely had a backroom with a dodgy Elvis impersonator rattling away on his guitar till 4am. Looking back now, there was still the energy of Camden's anarchic past that had hung around straight from the Clash's first album cover, through Brit Pop, The Libertines and the revival of the Vintage scene encompassed by nights like Lady Luck.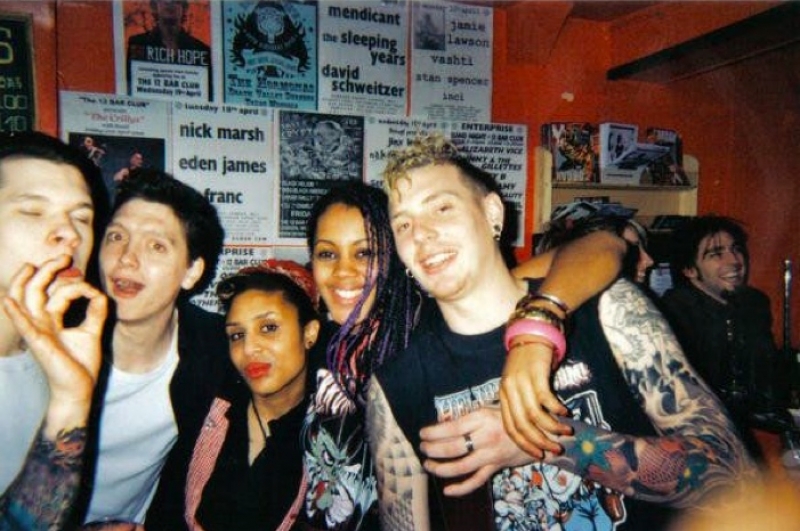 Celebrating 40 years of Punk has made me reflect on how much those years have influenced my work today as an activist, cultural producer and now project coordinator for Punk London. The passionate DIY aspects of Punk gave me confidence as young Black women to break the mould, to try, fail and try again. The Rockin' scene developed my personal style which I know see as an important aspect of my creative expression. Both have an anti-establishment ethos that still runs pretty true to the core of who I am today. They introduced me to art, music, politics and social history that I was not exposed to in my working class background. My experience of the different ways to inspire, educate and agitate outside the usual establishment channels is something that I now manifest in my activism and cultural work to create positive change.
Today, those scenes I grew up in where I was often one of the few Black faces are now seeing an influx of kids from different racial backgrounds with Afro Punks, Taqwacore kids and young people who equally love David Bowie as much as they do Stormzy. The notion of a defined subculture has shifted in the age of social media, scenes are now global. My band Big Joanie is part of burgeoning Queer and Black punk scene that encompasses bands from Manchester to Kenya! But, even with these changes and Camden changing dramatically from the time of my 21st birthday I still see teenage goths, punks and rockabillies getting off at the station looking for their tribe. There is something endearing in seeing young people step away from the beaten track set out before them, revelling in being weirdos and building their own ideas of what their identities should be. Maybe for them like it did for me and friends Camden Town still exemplifies what it means to be an outsider.
> Has Punk shaped you too? Join our celebration of the genre at our Punk Weekender 8-10 July
> You can follow Charlene @misschazmatazz