Where do Women Stand in the Future of Online Radio?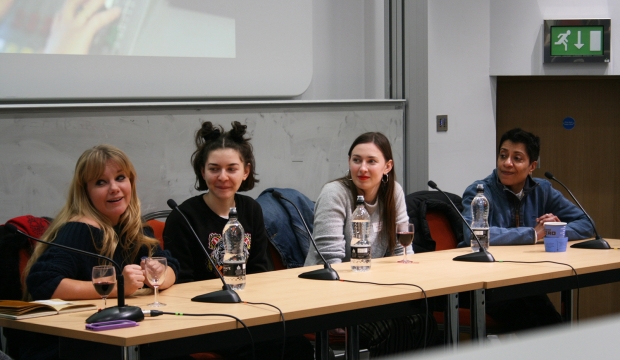 Last month, five female broadcasters, including our very own Roundhouse Radio station manager, Nicole Logan, came together to question the future of internet radio and its role in encouraging gender equality.
Roundhouse Radio Blogger Erica McKoy takes a look at what was discussed…
Once upon a time we were all crying out that video had killed the radio star, and more recently that the birth of the internet actually killed the radio star (though that didn't catch on so well).
As over half the country is tuning in to digital radio (RAJAR, 2013) [1], we are all starting to understand the freedom that online radio brings. It's progressive, and can be extremely provocative, pushing boundaries of creativity that FM radio hasn't seen or done before.
Would I be wrong to say that the proportion of male to female voices on the radio isn't equal? And would I be wrong in saying that this desperately needs to change? No.
Because statistics gathered by Sound Women present exactly that finding. So how is online radio moving beyond the archaic notion that a man's voice sounds more certain and reliable, and if a woman does want to be heard on the radio, that she ought to sound like "molasses rather than icing sugar"?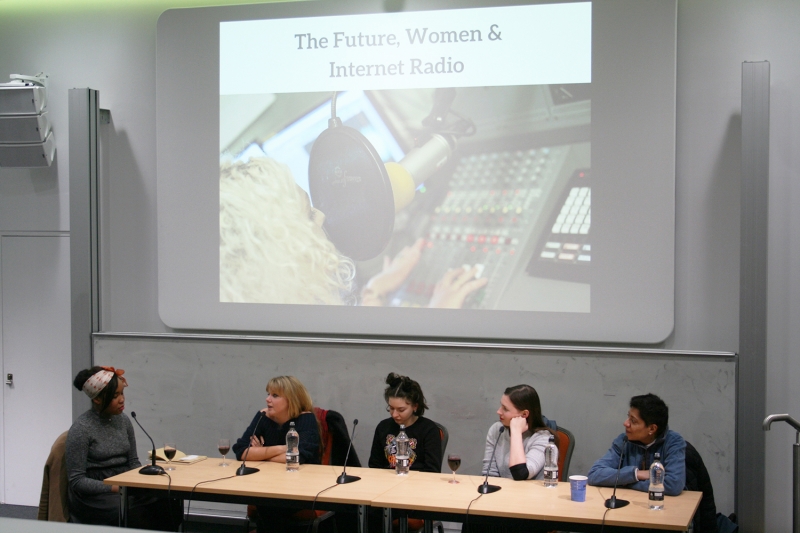 Chaired by Roundhouse Radio's station manager Nicole Logan, Sam Hall (also known as Goldierocks), Martha Pazienti Caidan, Ros Fraser and DJ Ritu.
Deeper Voices Make For Better Radio
A thought that has always stuck with me in my small radio career is that a deeper voice holds gravitas on the radio. Something I assumed simply can't be heard in a higher pitched voice. I genuinely thought that deeper tones could be trusted for their warmth and distinctive sound – and I'm not alone with this line of thought.
As deeper voices tend to be housed in the vocal chords of male presenters it's not all that crazy to assume that I was subconsciously associating this trust and authority with men, whilst affirming the sexist views that had been planted within me through other mediums. Nevertheless, it's not how I think now, and I blame it on a textbook that I read in my mid-teens that said that warmer, lower voices meant authority. In hindsight, it doesn't logically follow that a deeper voice is one that I could trust, nor does it mean that it can be elevated to a realm of awe.
When I started to realise that these deeper tones I'd held in my mind as strong, knowledgeable, and authoritative voices were the voices of men, it became clear to me that there was definitely a gender imbalance in what I was hearing on the radio. We see this great gender imbalance in recent statistics put together by Sound Women, as they found that solo women presenters represent only 12% of total drive time hours and 13% of total breakfast hours [2]. As these are the shows which usually have the highest listenership, and given the statistics, it explains why a person may assume that a man's voice is more trustworthy. It is, after all, a voice we recognize, in our kitchens as we make our breakfast or in our cars on the way to work.
So statistics show a great gender imbalance in the types of voices we are hearing on the radio. How can online radio change this? Roundhouse Radio had a chat with producer, DJ and former SOAS student, Nabihah Iqbal (also known as Throwing Shade), who hosts a bi-monthly show on NTS, an online radio station based in Dalston. She expressed her hopes of hearing more women on the radio, not due to positive discrimination but because there are some brilliant female presenters (not to mention producers too).
Throwing Shade's NTS sets delves deep into the depths of music from around the globe. She brings her expertise of ceremonial, traditional and sacred music to her show. Throwing Shade speaks knowledgeably on the selection of records she plays, and she is proof that women can be a trustworthy and informed voice on the radio. As online radio is widening the platform for more women to be heard, gender equality is something that will eventually become clearer. After hearing a statistic from 2013, that highlighted the gender inequality on the radio, Throwing Shade hopes that online radio will have a "ripple effect on mainstream stations".
There Will Always Be Room for FM
The amount of people tuning into digital and online radio is on a steady rise. Nevertheless, Capital Radio broadcaster, Sam Hall (also known as Goldierocks), believes that "there will always be a place for FM, however when technology develops, that might change". Until all cars in the UK can carry the internet – which may not be a far off future, FM will be the format used. People enjoy listening to the radio in the car, and it is where the majority of people will tune in.
When asked what the biggest difference was between FM radio and online radio, BBC broadcaster and host of a SOAS Radio show, DJ Ritu replied, "The most obvious difference between FM and online radio is that you have loads of freedom. Online radio is a medium that has far less restrictions than FM. Plus, the immediate and simple nature of the internet and online radio means anyone, anywhere can produce a radio show or podcast".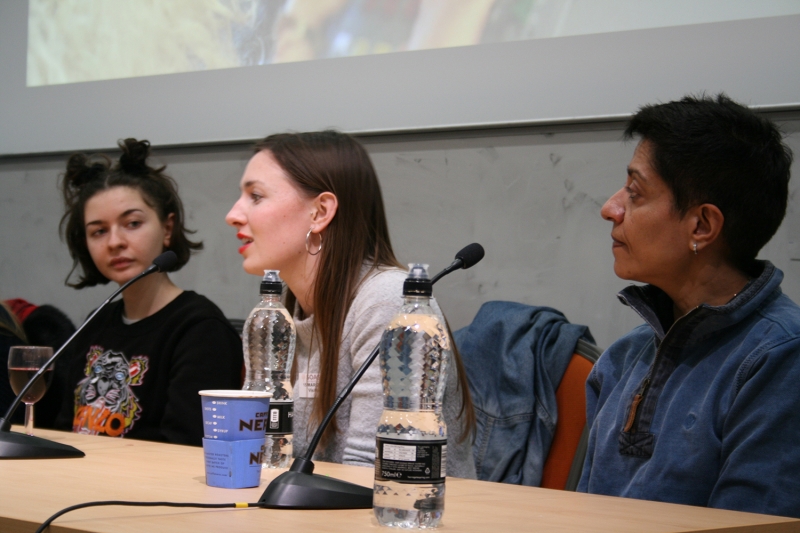 More Women Need to Get Involved…
Miia Luisa Laine, Station manager at SOAS Radio, noticed that 80% of the volunteers at the station are women; however this figure was definitely not being translated in the wider radio picture. So, where have all the women gone?
Ros Fraser, the organiser of the Grassroots Radio Network, a youth led and community stations in the UK said that "we have a long way to go with radio to get more women involved". As women overall only make up 20% of the solo voices on national radio, we have to wonder why the ratio is so imbalanced. Is it possible that online radio may be the direction that women start heading towards – as a sure way of getting their voices heard? Online radio now has a greater opportunity than ever before to reach wider audiences, and as DJ Ritu mentioned in the SOAS talk, it is a medium which is so much freer than FM radio.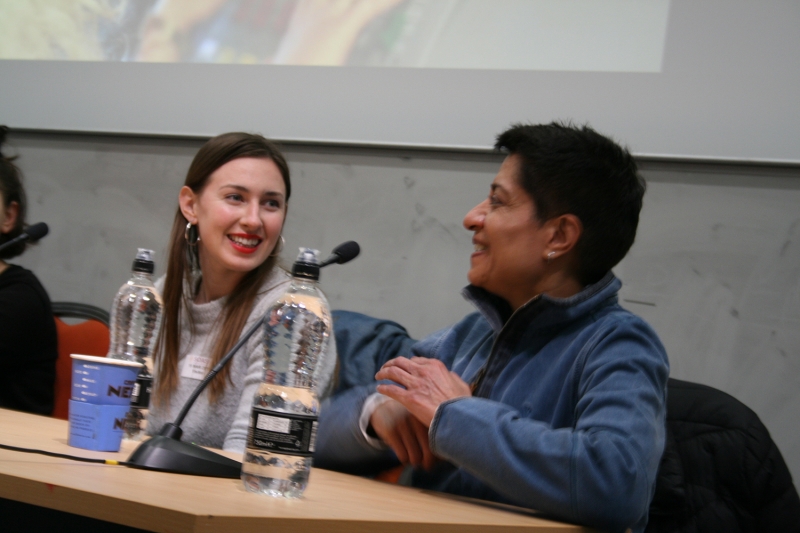 Radar Radio presenter and BBC Radio 1 producer Martha Pazienti Caidan, who works with Annie Nightingale (the first female DJ to join Radio 1), knows exactly how to work the internet to her advantage. But she highlighted a slightly alternative view in the discussion. Martha never felt this lack of opportunity because she's a woman, and believes it's down to the women who came before her who paved the way. Martha uses the internet to build a community of people who enjoy electronic music, but also as a way of pushing her show imaginatively. She uses a google maps feature to show where in the world a track came from, as well as gathering stories from people across the world about how the electronic music scene is doing in their country, things that would never be possible without the internet.
So what do you think the future of radio is? Will online radio be more encouraging of gender equality?
Comment your thoughts below or get involved on Twitter @RoundhouseRadio using #WomenFutureOnline
References
[1] http://www.rajar.co.uk/docs/news/RAJAR_DataRelease_InfographicQ32013.pdf
[2] http://www.soundwomen.co.uk/wp-content/uploads/2014/09/Women-on-Air-July-2013-press-release.pdf