Talking Doorsteps: A Common Terminology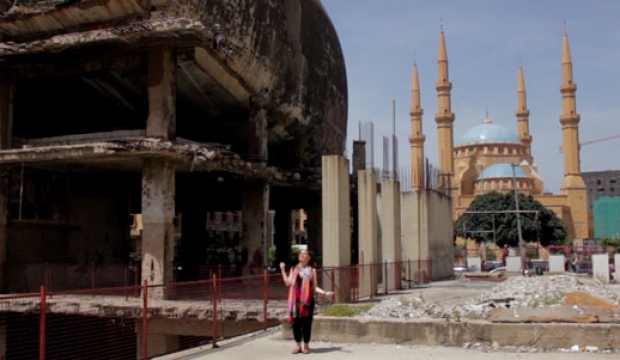 Since 2011, groups of young creatives have worked with the Roundhouse and professional spoken work artists to create pop-up performances on doorsteps across London on the theme of 'home'.
This year Talking Doorsteps is going global, connecting young poets and filmmakers internationally and enabling them to explore what 'home' is together and encourage the rest of the world to the same by sharing that work digitally.
In April a group of us took Talking Doorsteps to Beirut. Here are the first of our videos, featuring myself, Hashem and Madj and below is the journey we took to make them:
The journey started in Beirut a couple weeks ago with myself, poet Bohdan Piasecki, filmmaker Pippa Riddick & Roundhouse Producer Sylvia Harrison.
We travelled to meet with El Yafta, a poetry collective that came out of Haven for Artists. Both organisations aim for activism through art; empowering artists and giving them a platform which aspires toward positive change for their community and country:
That's why we're all here isn't it, why we are poets – to find common terminology for what we are going through. To connect.
At that moment I realised what was at the core of Talking Doorsteps.
Our 6 days in Beirut, somehow felt like 6 months, and 6 minutes simultaneously. I think that is the nature of intense journeys; we learnt so much, did so much and connected even more:

Pippa made 12 poetry films on different sites around Beirut.
Bohdan facilitated 6 workshops with support from myself, Mohamad Hodeib (founder of El Yafta).
We produced an evening of poetry with an audience of around 100.
We made friendships that I believe can sustain the impact of distance.
We danced… but not enough… we can solve that next time.


Around these events, so much happened, I am struggling to summarise, I took a book worth of notes. It was so intense, and much of my time was spent connecting with the poets of El Yafta; reading their work, giving feedback, editing, sharing… it was hard to write anything of my own whilst I was there. But I have started writing, in fact it is now all I can write about:
We have a Starbucks.
We don't have a government.
I want to wonder you to the docks.
But what if the roads are blocked off?
What if we laugh till the backs of our ears burn
and only rum will soften the blisters?
You are lighter than the sun lets most people be.
What about a corner, a café, a chalk-board, a wagon?
How about we unite in each other's saliva?
I want to say thank you to everyone involved in this week; Sylvia, Bohdan, Pippa, Danya, Mohamad, El Yafta, Haven, The Roundhosue and Sara Sibai, a member of the collective and teacher who I spent a lot of time talking to and who has left an energy for learning that rebooted my creativity. Each of El Yafta was doing something new, each I am still unpacking, I hope they are too… if not, I will be sending some follow up emails soon – watch out!
Find out more about Talking Doorsteps
Check out previous Talking Doorsteps online shorts
Talking Doorsteps is a Call to Create affiliated project. Call to Create is a global initiative focused on spotlighting the value of putting young people at the heart of creative processes and progammes (further details to be announced shortly).
Find out more about me:
Attend my debut book launch and Poet's Development Day at the Roundhouse.
www.debrisstevenson.co.uk
@debrisstevenson