When Parliament finally approved a plan for a London & Birmingham Railway in 1833, Robert Stephenson (of 'Rocket' fame) was appointed as Chief Engineer.
He would spend much of the decade overseeing the country's largest civil engineering project. Euston station, London's first rail terminal, opened in 1837, and when the first direct train left Euston for Birmingham the journey time was cut from 12 to just five hours.
But there was a problem.
Euston was at the bottom of a shallow incline, and engines heading north did not yet have the power to climb to Camden. For the next six years, a huge winding gear had to haul trains up the hill on cables. The area just north of Euston, including Camden Town and Chalk Farm, consequently became vitally important. It was here that Stephenson built his rail yards and commissioned his Resident Engineer, Robert Dockray, to build him a 'round house' for maintaining and storing goods engines.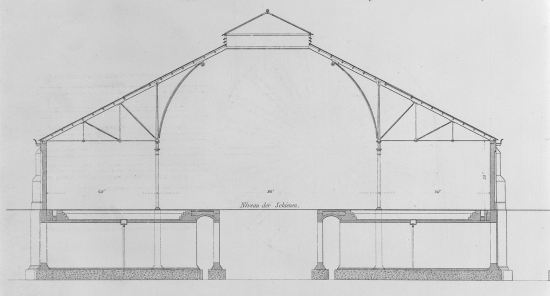 © RIBA Library Photographs Collection
Construction began in 1846. Dockray's design divided the space into 24 bays, with a massive turntable wheel in the centre that engines could be rolled onto, before being spun around and rolled to a bay for servicing or storage.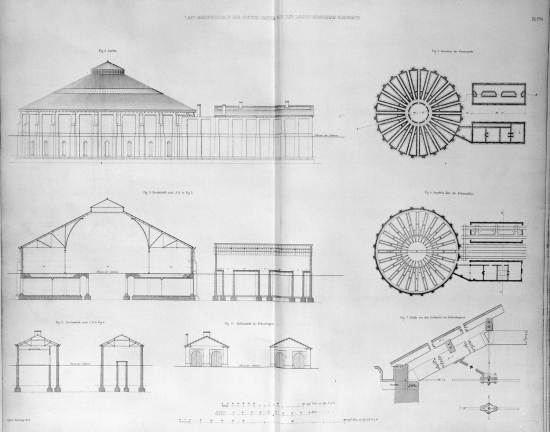 © RIBA Library Photographs Collection
Engineers would work from inspection pits beneath the bays. The circular building was 160 feet in diameter, topped by a broad, conical roof supported by 24 columns and cast-iron girders. It had bracketed eaves, slate, and a louver to let the smoke out.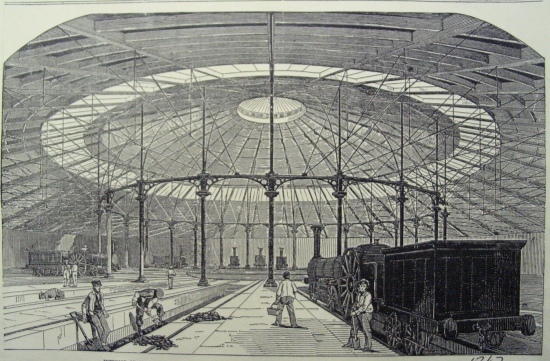 Opening in 1847, the Roundhouse was justly celebrated as a marvellous feat of civil engineering. But it served as a repair and maintenance shed for less than two decades before the rapid evolution of railway technology rendered it obsolete. By the 1860s, engines were too long for the turntable.
In 1869 a new use was found for the building as WS Gilbey of Gilbey's Gin took on the lease and began to use the Roundhouse as a bonded warehouse for liquor.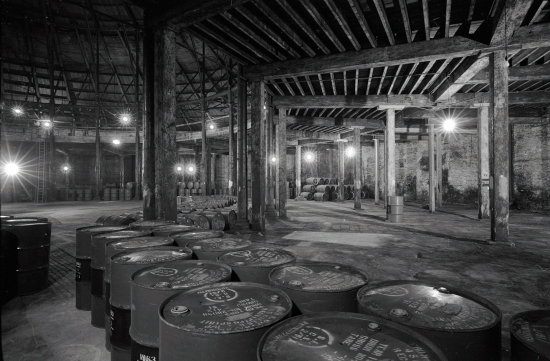 The Gilbeys built a wooden gallery around the inside of the building, and painted over the louver glass in the roof to protect valuable stock from sunlight.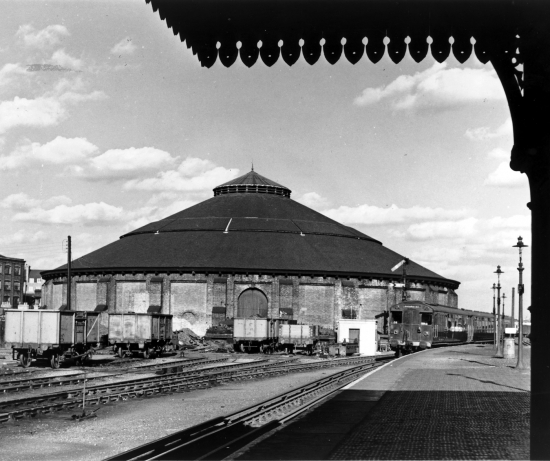 © RIBA Library Photographs Collection
Later, during the Second World War, the Gilbeys – believing that the Roundhouse would be an easy target for German bombers – transferred much of their stock to Bow. But despite their fears, the building survived unscathed.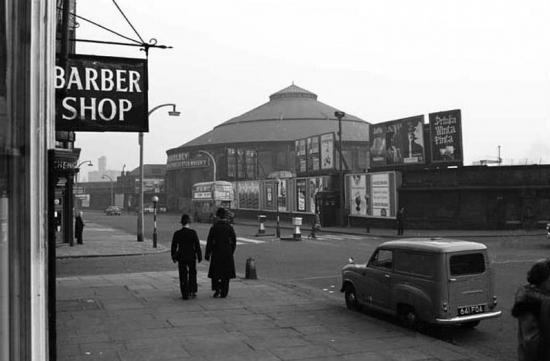 Even at this time, the remarkable design and construction of the building attracted significant numbers of students and admirers of architecture, though visitors had to gain permission from the Surveyor in charge of the permanent Customs guard, due to the high value of the stock.
Altogether Gilbey's would remain in residence at the Roundhouse for more than 90 years, but was not until 1964 that it began its life as a cultural venue due to the work of playwright Arnold Wesker, the Trade Unions and the Centre 42 movement.