Available to all Friday and Saturday ticketholders
A range of innovative cuisines and food experiences will be offered during both days of Ja Ja Ja Festival. These will include 'Nordic Sound Bite' – a collaboration with curator and designer Nikolaj Danielsen (DEN) that partners musicians with young food artists – and a menu designed by leading Swedish chef and entrepreneur Herman Rasmusson.
Additionally, the Roundhouse will play host to a Nordic Fika, while a special daytime programme on 9 November will present sessions and talks by young artists working with design, food and music. Ja Ja Ja Festival's food programme is supported by New Nordic Food – a Nordic Council of Ministers initiative that promotes Nordic food in the region and internationally.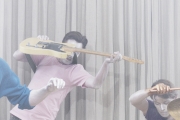 Some of the biggest names in Nordic music are set to perform at a new two-day event at the Roundhouse on November 8 – 9. Mew (Denmark) and mùm (Iceland) are the first artists announced to p…
Essential Info
Available to all Friday and Saturday ticketholders