Young, sexy, scruffy and risk-taking comic acrobats.
Heart stopping moments as they leap off the swing and catapult through the air before landing with a thud that is almost as impressive as the flying itself.
Thrills, spills and split-second timing.
Gasp-inducing… a masterful demonstration in how far honed skills and bodies can take you.
Top 10 Hottest Tickets In Town
Critic's Choice
These French acrobats mix madcap humour with incredible skill and collaboration to push their shows to spectacular extremes.
La Meute – translated as "The Wolf Pack" – are masters of the rarely-seen circus skill of Russian Swing.
It's seldom seen with good reason. The stakes are high, as the six performers use a giant swing to propel themselves up to 10 metres in the air. They must trust that their compadres will be there when they return to earth…
Join this group of brilliant performers and close friends on a journey of cold sweat, fear, exhilaration and idiosyncratic French humour, all packed with astounding skill, fearless ambition and downright good fun.
Recent graduates from the Stockholm University of Dance and Circus, La Meute have been whipping up a storm on home turf in France with their debut production. Don't miss the UK premiere at CircusFest.
Image © Ben Hopper
SAVE

15% –

BOOK

TWO

OR

MORE

CIRCUSFEST

SHOWS
Love circus and spoken word? Then before your main house experience why not try Expectation a beautiful and immersive 20 minute performance.
Terms and conditions apply. Find out more.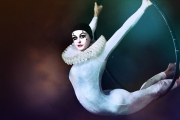 Five weeks of contemporary circus from around the globe.
News
The La Meute boys have kicked off CircusFest in style and our audiences reckon it's 'totally epic'
Essential Info
£22.50 & £27.50 (Sun-Thu)
£24.50 & £29.50 (Fri-Sat)
£15 Under 16s
*Fees are £1.50 per transaction.
Age Guidance: This show might contain the odd bare bum here and there, but it's brilliant fun for audiences of all ages.
Running time: 70 minutes (approx)
Audio Description Wed 02 Apr, 7.30pm and Touch Tour, 6.30pm