The Insect Circus dates in April at Highbury Fields have with much regret been cancelled due to waterlogging on the site.
To celebrate its tenth anniversary, the Insect Circus is embarking on its first Big Top Tour and will make its premiere at Highbury Fields.
The Insect Circus bring their death-defying insects performing for your amusement in this fun-filled extravaganza for all the family.
Don't forget to pay a visit to the inimitable Insect Circus Museum, which will be open before and after every performance.
Supported by Islington Council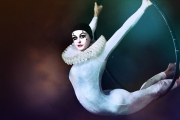 Five weeks of contemporary circus from around the globe.
Essential Info
This production takes place at Highbury Fields, Islington, London N5 1QP.