A double bill of dance works.
Fuel: Katarse ensemble
The world becomes a cage, security turns into a compulsive craze, and we are controlled. Oppressed by fueled fear – out of fear – we go back to our instincts, searching for the meaning of all this, something that makes sense. We are treated like animals and we bow to power as if we were unconscious beings. A traffic light tells you to stop, and you stop. Can you still think for yourself?
An intimate solo with live original music, this piece balances the fragility of human life and a sense of fear.
B.Y.O.U: Tony's Pony Show
How do we entertain? How do we tell a joke? How do we show our true selves? New multidisciplinary dance piece, B.Y.O.U Tony's Pony Show, questions how we perform and capture an audience in an arena of consequences, improvised choices, and chance happenings.
This collaboration between choreographers, dancers and designers takes the framework of a games how. It leaves everything in between to be influenced during the performance, debunking the hierarchies and constructed realities seen in the current landscape of mass entertainment and factoring the audience as both spectators and judges. No show is ever the same. Presented by M.N.O.R.S.S.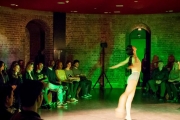 Four days of live music, comedy, cabaret, theatre, dance, puppetry and much more..
Essential Info
*Fees are £1.50 per transaction.