An inner journey that seeks to understand who we are, our place in the world and our relationship with nature through the music of a melancholic piano.
We are travellers who write our diaries, day after day, telling which roads we have walked, the fragments of life we have captured and our relationships with other people. A day we find a path that leads us in the middle of a forest where there is an old piano. We start playing it, and by doing so we complete the metamorphosis, finding ourselves and the answers to our questions.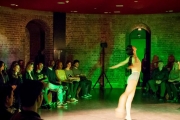 Four days of live music, comedy, cabaret, theatre, dance, puppetry and much more..
Essential Info
*Fees are £1.50 per transaction.