C&C Company present Maria Addolorata an investigation, and not a safe one for that matter into an actual moment of suffering.
The two people going through this moment are not socially identifiable, they're the most ordinary and commonplace people you can find, two casual contemporary victims that are trying to survive… survive events, or better said, they're trying to survive themselves.
We don't mean to start from a story, because suffering is one of those things without any roots, it is totally unexpected, unforeseeable. We are just waiting for it to come, to hit us, to become the driving force of a physical reaction.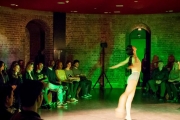 Four days of live music, comedy, cabaret, theatre, dance, puppetry and much more..
Essential Info
*Fees are £1.50 per transaction.
Age guidance: 16 years and over