This double bill of short films that focus on life for the elderly and lost memories.
Marbles by Anna Marie Ramm
Roberta Allen with her silver moon boots is a familiar figure in the streets of Norwich. Living alone with her ever-growing collections and only her beloved marbles for company, old age is finally taking its toll. Poor vision, memory loss and a vivid imagination offer Roberta a rich kaleidoscope of experiences. The discovery of a winning lottery ticket changes Roberta's life forever… but is it for better or worse?
With sensitivity and flashes of humour, this short film addresses some of the issues facing the elderly in the UK today.
ANDYOUARE? by Margaret Dane
Beautifully performed and artistically compassionate, ANDYOUARE? is a tribute to a mother ravaged by Alzheimer's.
Jeanette Rourke collects a BAFTA for best short film. At the after show party Jeanette rings her loved ones, but sadly not her Mum. Ravaged by Alzheimer's Pretty Kitty Rourke would have no memory of her little girl's big night out.
Beautiful, expressive and unique, with a magnificent musical score, ANDYOUARE? explores what is undoubtedly a personal journey, shared by us all. A Wayward Women Films Production.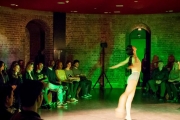 Four days of live music, comedy, cabaret, theatre, dance, puppetry and much more..
Essential Info
*Fees are £1.50 per transaction.