A series of workshops drawing on the techniques and traditions of the Baka Rainforest People in Africa – thought to be the first humans to have learned to sing.
Workshop leader Su Hart has worked for over 25 years with the Baka Rainforest People to build a series of workshops inspired by their joyful singing styles – beautiful interlocking vocal sounds that are rhythmic, powerful and completely entrancing. Fun and inclusive, this workshop builds co-operative, listening and rhythm skills and is fun for all ages and abilities.
Su Hart is a singing leader running UK community choirs in Bath, Bruton and London but also sings and teaches internationally. She has been initiated by the Baka women to share this singing, and royalties from performances go back to the Baka for projects in the forest. To find out more about her work, visit globalmusicexchange.org and suhart.com for details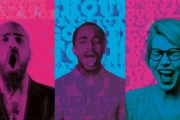 Voices Now is not like other choir festival. Voices Now invites choirs to take risks, collaborate with world-renowned musicians and other choirs to create new music and new ways to sing together. …
Essential Info
Tickets are free but please reserve your space using the FIND TICKETS button.
Suitable for all ages
Latecomers will be admitted at a suitable break in the workshop