We are poets and more and more we are asked to facilitate workshops. For a variety of reasons, we say yes and often in solitary, pull together workshops we hope will deliver.
Generally, we do good jobs. But as this art form attracts attention, and positions itself as an educational tool, how can we pool our collective experience to ensure the best job across the board?
Spanning two days, this pilot symposium will feature workshops, discussions and masterclasses on delivering poetry workshops to a range of needs including SEN, prisons and the older community.
This is a space to ask questions, to receive advice and techniques which promote and refresh best practise, and to cultivate a fertile network of poetry facilitators.
The masterclass will be led by Deanna Rodger and guest artists (to be announced) and is suited for poets looking to improve their facilitation skills alongside their craft.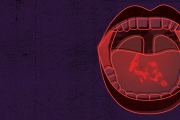 The Last Word festival is home to a captivating mix of live performances that all have a story to tell. Featuring new work by established artists, rising talents and works-in-progress from home-g…
Essential Info
*Fees are £1.95 per transaction
Suitable for poets looking to improve their facilitation skills alongside their craft
Age guidance: 18-30