Is time really money? Is money really time? What is the 'neoliberal agenda' and why don't I have a copy?
Join award-winning office temp and professional spare wheel Madi Maxwell-Libby on a journey to better understand our economic system. Prepare for drilling, dancing and some heavy-duty irony in this satirical skewering of life under capitalism.
It's economics Jim, but not as we know it.
Madi Maxwell-Libby is part of Spit the Atom spoken word collective who are currently Resident Artists at the Roundhouse.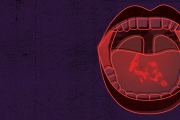 The Last Word festival is home to a captivating mix of live performances that all have a story to tell. Featuring new work by established artists, rising talents and works-in-progress from home-g…
Essential Info
*Fees are £1.95 per transaction
Running time: approx. 1 hour
Age restrictions: not suitable for children. Children may attend if accompanied, at the adult's discretion.
Latecomers will be admitted at a suitable break in the performance.
---
AGED

16-25?

A handful of tickets are available at just £5 each for GET IN members.

Already a member? Log in first, then hit the 'find tickets' button to see if any GET IN tickets are left.