I'm not going in tomorrow! I'm having a day off! Work is a social construct! You're only young once!
At least, that's what Daniel was saying at two o'clock this morning. It's seven now. If he isn't going in, he needs to send the email right now. If he is going in, he needs to shower right now. Why was everything so much clearer five hours ago?
Daniel Piper's Day Off is the 'difficult second show' from writer, comedian and 2017 National Scottish Poetry Slam Champion Daniel Piper. It is a portrait of a young man with a sore head who doesn't know what to do for the best.
A clear front runner among up-and-coming comics. A piece of theatrical delight
Palpably awkward and purely funny
Brilliant
Sharp and witty, with a passion that says he means it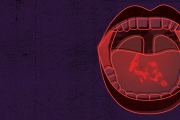 The Last Word festival is home to a captivating mix of live performances that all have a story to tell. Featuring new work by established artists, rising talents and works-in-progress from home-g…
Essential Info
*Fees are £1.95 per transaction
Latecomers will be admitted at a suitable break in the performance.
Age restrictions: not suitable for children. Children may attend if accompanied, at the adult's discretion.