OneFest and Frank Turner present a weekend of panels, workshops and live music to inspire, support and develop a new generation of artists, performers and music industry professionals.
This panel is useful for:
People who are interested in working in Live Events and Festivals.
Understanding the different roles, how to break in, the recruitment process, how competitive it is and how to create a sustainable career.
You will come away with:
An understanding of what festivals and events are looking for in candidates.
An idea of whether it is the career for you.
How to stand apart from the next candidate.
Panellists:
Julia Payne – The Hub
Paul Reed –

AIF

Malcolm Hayes – Glastonbury Festival
Rob Silver –

MAMA

Group
Beckie Sugden – X Ray Touring
Flick Heath – OneFest Cohort
Networking opportunities will be available after the session.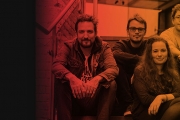 OneFest is a UK based, non for profit, music industry development company set up to support the emergence of new talent. Working collaboratively with Frank Turner, and with the support of Arts Co…
Essential Info
Running time: 45 Minutes
Age restrictions: not suitable for children but may attend if accompanied, at parents' discretion
Latecomers will be admitted at a suitable break in the performance.
*Fees are £1.95 per transaction