"Bodies intertwined, creating magic together… The party still raging, this joy still surging, we haven't reached our limits… Midnight approaches… It will soon be the hour."
Performing in London for the first time in seven years, French acrobatic troupe Compagnie XY bring their spectacular show It's Not Yet Midnight… to the Roundhouse for its UK premiere.
Featuring flying and fighting, dancing and danger, this gripping show sees 22 acrobats effortlessly catapulting each other through the air, performing jaw-dropping circus stunts including the rarely-seen four-high human tower.
Taking place in our bricked big top, this beautifully choreographed fusion of circus and dance contains a playful yet poignant narrative, mixed with an uplifting soundtrack.
It's Not Yet Midnight… is an astonishing spectacle created by one of the world's leading contemporary circus companies.
The rock'n'roll circus where everything's possible!
Supported by French Cultural Department (DGCA-DRAC Nord-pas-de-Calais), Regional Council of Nord-Pas-de-Calais region, Adami, French Department of Culture and Communication, French Institute and Lille municipality, Fondation Bnp-Paribas.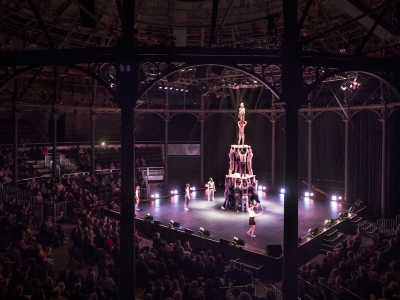 It's Not Yet Midnight…: your reactions
After a week of catapulting themselves through the air like it's no big deal, we take a look at your reactions to the show…
Read More
Essential Info
*Fees are £1.95 per transaction
Age suitability: We welcome all ages, but the show will be enjoyed most by those aged 8 and above.
Latecomers will be admitted at a suitable break in the performance.
Running time: approx. 1 hour
Strictly no photography.
Deaf and Disabled Access: The Roundhouse is a relaxed venue, welcoming all to each performance of It's Not Yet Midnight. A visual story is available here. If you have any access requirements that you would like to discuss with us, please give us a call on 0300 6789 222 or contact us here
This show contains very little spoken word, a print out of this can be requested at the end of the show from the duty manager. The music in the show can be amplified with the use of our hearing enhancement system which is compatible for use with hearing aids with the 'T' position and cochlea implants. Should you require this service please speak with the box office on arrival.
---
Pre-show performance
A Thousand Fibres 18-20 April
Performed by the Roundhouse Street Circus Collective, directed by Charlotte Mooney (Ockham's Razor) and John Berkavitch.
---
Concessions
Child Discount of 10% available for ages 15 and under.
Student Discount of 10% available for students.
Group discount 10% off full price tickets for groups of 10 or more (limited availability). Please call 0300 6789 222 and select option 1, then option 2 for further details.
---
AGED

16-25?

A handful of tickets are available at just £5 each for GET IN members.

Already a member? Log-in first then hit the book tickets button to see if any GET IN tickets are left.
More Info
Compagnie XY
Widely regarded as one of the leading contemporary circus companies in the world, Compagnie XY create jaw-dropping and poetic spectacles. They are unique in their company set up, operating as a collective who live and work together.
It's Not Yet Midnight… is Compagnie XY's third creation, following Le Grande C (2009) and Laissez-Porter (2005). With more than 500 performances worldwide, the company's success has enabled them to challenge acrobatic technique from a creative perspective working with large numbers of artists.
Pre-show performance – A Thousand Fibres
"We cannot live only for ourselves. A thousand fibres connect us . . . and among those fibres, as sympathetic threads, our actions run as causes, and come back to us as effects." Herman Melville
A Thousand Fibres blends circus, speech and sound to create thrilling, visual storytelling. With commitment, strength and trust, A Thousand Fibres examines how we are bound together, how in each fleeting moment we must be prepared to catch each other if we do not want to fall. It is about the ripples and consequences of our actions and how no one can truly stand apart.
Directed by Charlotte Mooney (joint Artistic Director, Ockham's Razor) and John Berkavitch (one of the most respected voices in the UK spoken-word scene), this performance merges the Roundhouse Street Circus Collective with spoken word artists for the first to create a visual ensemble spectacle scored by Roundhouse Audio Collective artists.
The Street Circus Collective is the Roundhouse's advanced training programme for young circus artists and street dancers. The programme offers opportunities to learn specialist skills with industry professionals and guest companies, incredible performance opportunities and the chance to explore professional training and career pathways in the arts industry.