With recent advances in the quality and accessibility of virtual reality technology, digital environments will soon be spatial: videos will be inhabited and recordings will be indistinguishable from real sounds.
John Russell Beaumont, Haavard Tveito and Takashi Torisu from the Interactive Architecture Lab at the Bartlett combat the predicted path of virtual reality towards the isolated and passive consumption of ready-made experiences.
Join Traces of Reality in embracing new creative control in the virtual world.
Become an explorer and creator of social virtual spaces.
Participants are invited to invent their own architectures—from replicating a chapel inside the Roundhouse, to having a jam session inside a gigantic violin.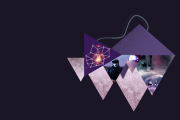 Hack your everyday: Plug in your headphones. Switch on your phone. Press Play. We Are Now is a new London festival that celebrates hacking everyday technologies in performance arts, presenting wor…
Essential Info
Suitable for all ages.
Please note, VR headsets are not recommended for people with Epilepsy or Motion Sickness.
Dates & Times
Friday 10th: Starting at 18:00
Saturday 11th: Starting at 14:30
Sunday 12th: Starting at 14:00