DIY Magazine return to Roundhouse Rising Festival, with their predictions for 2016 – The Magic Gang, INHEAVEN and Gillbanks.
Brighton based quartet The Magic Gang, A.K.A. Angus, Jack, Kris & Paeris bring music "for your mind, body, spirit and soul'. With a sold out headline slot at the NME Awards Shows 2016, The Magic Gang are making waves on the live circuit so catch them in a small venue while you can!
South-east London's feedback-strafed, guitar-shredding INHEAVEN are delivering a statement of intent – they create anthems of amp-pulverising noise that updates the post-punk template for a new generation.
With 5 song EP Lend Me Your Skin under their belt and a slot at Field Day, Gillbanks complete the line-up with their brand of 'pop songs with meat'.
Join us for the live stream
Join us just before the show starts as we'll be live streaming this sold-out show. Join in the conversation on Twitter @RoundhouseLDN using #RHRising2016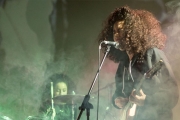 Roundhouse Rising Festival is back! Featuring an exciting line-up of the best emerging music, we'll have the likes of The Magic Gang, Black Honey, INHEAVEN, Kuenta I Tambu, Hannah Lou Clark…
Essential Info
*Fees are £1.95 per order
Suitable for all ages
Latecomers will be admitted throughout