Rising Sounds offered 12 unsigned acts the opportunity to shape one of their tracks with a professional songwriter and some of the best producers in the UK, including James Lewis, John Parish and Tom Furse.
The resulting album is set to launch at Roundhouse Rising Festival with performances from four of the chosen acts: Rive, Phoebe Gold, Tom Vevers and Idiki.
Rive are Ceri Jones and Natascha Polke, who hail from Wales and Switzerland and met in London over a mutual love for songwriting and sangria. They have recently come together to form an ambient electro indie duo, inspired by the likes London Grammar, FKA Twigs and Banks. They've collaborated with James Lewis (Arctic Monkey's, Cee-Lo Green, Rudimental) on track Eyes Closed.
Phoebe Gold is a singer and songwriter from London, influenced predominantly by neo-soul and R&B music. Phoebe's musical influences run from Seun Kuti to Esperanza Spalding via The Jacksons and Jill Scott. Her style features J Dilla inspired beats, lush, layered vocal harmonies and memorable hooks. She worked with Spider Johnson (Lee Scratch Perry, Kano, Estelle) on track Mind Over Matter.
Tom Vevers, a singer songwriter from North Berwick in Scotland, writes music about life, love, loss and personal experiences. Tom's combination of catchy, attention-grabbing melodies, witty and memorable lyrics with his strong, emotive and unique Scottish voice make sure that his songs stick with the listener. He's teamed up with Kevin Paul (Calvin Harris, Hot Chip) on track Without You.
Idiki is an indie electronica artist based in London. She grew up in a small town between the mountains and the fjords of Norway where she spent years as an acoustic indie folk artist. Wanting to capture the cold and icy vibe of the north she started experimenting with synths and found her sound through the use of melancholic folk melodies on top of a cold and ambient electronic production. Idiki teamed up with Tom Furse (The Horrors) to produce her track titled Gone.
The Roundhouse Rising album featuring twelve tracks from twelve different artists, will be available at the album launch.
Rising Sounds Album Cover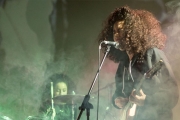 Roundhouse Rising Festival is back! Featuring an exciting line-up of the best emerging music, we'll have the likes of The Magic Gang, Black Honey, INHEAVEN, Kuenta I Tambu, Hannah Lou Clark…
Essential Info
*Fees are £2.95 per ticket and £1.95 per transaction
Suitable for all ages
Latecomers will be admitted throughout