Want to start or further your career in the music industry? Come along to our free* day of panels, Q&A's, networking sessions, workshops and talks.
You can also go behind the scenes with a Roundhouse tour and check out live music from some incredible emerging talent. Tickets are free – book as many sessions as you like now to guarantee your place or drop-in on the day.
Beginners
DJ Drop-in Sessions: Learn the DJ basics on CDJs and vinyl using Serato software.
FULLY BOOKED
Band Jam Taster: Always wanted to try guitar, bass or drums? Our expert tutor Matt will have you playing a song before the hour is through.
FULLY BOOKED
Already make music?
Songwriters Clinic: Do you write songs but need a bit of help & advice? Book an hour with our expert songwriters (who work with the likes of Adele and Florence!)
FULLY BOOKED
Demo Surgery: Book a 30 minute session with top producer, Spider J, for help & advice on how to tidy up your demo using Ableton and Logic software.
FULLY BOOKED
Spinnup Music Demo: Spinnup is a music distribution and discovery website to help you get your music on to iTunes, Deezer, Spotify and major music platforms. The site is accessed by A&R and talent scouts from Island Records, so it's a great and easy way to get your music heard. Everyone who attends the demo sessions will get a voucher code to have a single distributed FREE for a year.
BOOK NOW
Ableton Push Playground: A drop-in music lab where you can try the new Push II for yourself and get expert advice from the Ableton trainers. No need to book a session, just turn up and have a go!
Music Industry Panels
£5 music industry panel discussions with leading experts…
Meet The Managers – 12.30pm – 2.00pm: Get top hints & advice on how to build a team to launch your career from top artistic managers including Ally McCrae (Prides) Bernadette Barratt (Damien Rice, David Gray) and Murray Gray (The Big M London).
BOOK NOW
Build Your Own Music Presskit – 1pm-2.30pm: Learn how to talk to the press, get interview tips and techniques, find out what journalists are looking for and how to get great press coverage. With guests Emma Swann (DIY Magazine) and Maisie Lawrence (Cornershop PR)
BOOK NOW
Make Music:Need Money – 1pm – 2.30pm: Find out how to get your music funded with guest Huey Walker (Arts Council England), Ashon Spooner from Crowd Funding platform Phundee and more to be announced.
BOOK NOW
Meet The Promoters – 2.30pm – 4.00pm: The live side of the industry explained with Tom Clipson (Eat Your Own Ears) and Laura Davidson (Goldenvoice)
BOOK NOW
DIY Music Marketing – 3pm – 4.30pm: Practical advice on how to market your music using free online marketing tools and learn the basics of how to release and promote your music plus take away your own digital marketing toolkit. With guest Amelia Ideh (Put Me On It)
FULLY BOOKED
Live Music on the day
Check out Gawain Hewitt ft. Abimaro, Dizparity, Shao Hao, Josh Jacob, Roundhouse Audio Collective, Molasses, Velcrolove, Roundhouse Music Collective.
Roundhouse Tours
See our rehearsal rooms, recording studio and media labs in action and go behind the scenes at the Roundhouse.
SIGN UP
Roundhouse Rising and the Getting Ahead in Music Day are supported by Youth Music using public funding by the National Lottery through Arts Council England.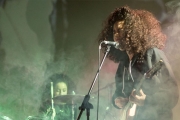 Roundhouse Rising Festival is back! Featuring an exciting line-up of the best emerging music, we'll have the likes of The Magic Gang, Black Honey, INHEAVEN, Kuenta I Tambu, Hannah Lou Clark…
Essential Info
Please arrive promptly to your chosen sessions to guarantee entry.
Please note, some session timings coincide so be careful not to double-book.
*Panel discussions are £5
Suitable for all ages