Celebrate the magical time of the day when stresses and strains of life melt away and enter a world of imagination and dreams with Bedtime Stories.
Rediscover that special time before sleep where bedtime stories are told and our unconscious mind takes hold, transporting everyone away on an adventure. Tucked up with your family and friends, take this chance to unwind and be dazzled with circus, theatre, dance and projections from innovative circus company Upswing.
Upswing in Partnership with Stratford Circus Arts Centre. Co-commissioned by Creative Black Country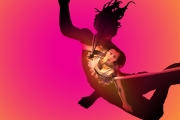 Spectacular circus under a brick Big Top CircusFest 2016 is back with three weeks of the most spectacular and extraordinary international and UK contemporary circus. The festival features major…
Essential Info
This event takes place at Hackney Showroom, Hackney Downs Studios, London, E8 2BT.
Suitable for the whole family.