Two exclusive UK premieres in the air and on wire.
Pinta is an exceptional solo performance focusing on vertical rope acrobatics. Performed by aerial acrobat Salla Hakanpää and directed by Ville Walo, Pinta creates magical images of weightlessness in a dialogue between the body and the object, the air and water. An intensive duet between the artist and the rope, this is a remarkable play of light, liquid and image in a captivating spectacle of beauty.
In Wiredo, with her body, a tightwire and a physical composition that draws on the Japanese art of Kinbaku (Shibari), Hanna Moisala tells a gripping story of stepping out of one's comfort zone. With its three-dimensional view and daring combination of Kinbaku and the tightwire, Wiredo explores the inner balance of human behaviour, posing the question 'what happens to the body when we choose to change our daily routine?'
This event is part of SIRKUS: New Work from Finland
Three exclusive premieres of new Finnish circus, supported by Circus Info, The Finnish Institute in London and Jacksons Lane
Pinta is supported by Cirko – Centre for New Circus
Wiredo is supported by Jacksons Lane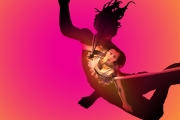 Spectacular circus under a brick Big Top CircusFest 2016 is back with three weeks of the most spectacular and extraordinary international and UK contemporary circus. The festival features major…
Essential Info
This event takes place at Jacksons Lane, 269a Archway Road, London, N6 5AA.