We'll be broadcasting Roundhouse Rising 2015 live via Dailymotion. Tune in and discover new music.
Join Huw Stephens as he hosts a fantastic line-up of exciting new music from Wulf, Folly Rae and The Tones live from our festival of emerging music on Thursday 19 February, presented by BBC Introducing.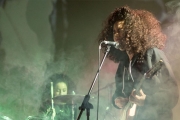 Our annual festival of emerging music returns with an exciting line-up of live music plus industry masterclasses, panels, workshops and creative projects.