This is a rare and unique opportunity to experience Imogen Heap's mi.mu glove system. Book your 30 minute slot on the day to experience playing music wirelessly in 3-D using gestures and movement with your hands. Dip into the sounds and rhythms of Imogen's first glove song, Me The Machine, taken from her forthcoming new album Sparks.
The gloves will be calibrated just for your hands and we'll show you how to get started – you'll then be left to get creative for the rest of your session. Invite your friends to come in and watch you make music out of thin air!
The Gloves are a cutting edge experimental gestural music ware being developed today for the purpose of Imogen Heap's studio and stage work.
Using a unique gestural vocabulary, motion data-capture systems, and user interfaces to parameter functions developed by Imogen Heap and her team, artists and other users will be able to use their motion to guide computer-based digital creations. The Gloves are both an instrument and a controller in effect, designed to connect the user fluidly with gear performers usually use, such as Ableton – think minority report for musicians brought to you by the DIY/maker revolution.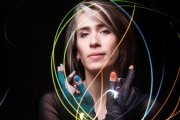 A 4 day festival curated by the Grammy Award-winning Imogen Heap
Essential Info
Times:
Friday: 2pm
Saturday: 12pm
Age restrictions: 12+
Sign up at box office to take part. Limited space available.
Venue: Studio Theatre