Kano cofounder Alex Klein will give a thirty minute talk on their computer and coding kit for all ages while exploring the the larger themes of computing, creativity, and the code that rules our lives. This will be followed by an 90 minute workshop that lets participants get hands on with the kit itself, making and playing with code, music, and Minecraft.
Alex Klein is the cofounder of Kano, where he leads product and outreach. His writing on technology, society, and business has appeared in Newsweek, New York Magazine and The New Republic. Prior to* Kano* and journalism, he studied economics and political philosophy at Yale and Cambridge.
Kano creates computer and coding kits for all ages, all over the world. Their mission is to give anyone, anywhere a simple, fun way to make and play with technology – to take control of the world around them. The kit first launched on Kickstarter in November 2013 and raised $1.5 million in a month, making it the most-crowdfunded learning invention of all time, and the UK's most successful Kickstarter campaign.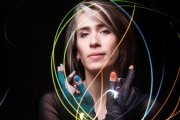 A 4 day festival curated by the Grammy Award-winning Imogen Heap
Essential Info
Sign up at box office to take part. Limited spaces available.
Venue: The Clore
Suitable for all ages.