Human Harp – From Playing the Bridge to Playing the Building
Artist in residence at Queen Mary University of London (QMUL), Di Mainstone will uncover the creative process behind the Human Harp – a digital instrument designed to play suspension bridges like giant harps! The device was used to play the Brooklyn Bridge on the 130th anniversary of its opening and has since continued to become a collaborative project involving students, alumni and researchers from QMUL; and engineers, musicians and designers from across East London and beyond.
Di and the team will be based at the Roundhouse throughout the month of August as part of the Human Harp LIVE-LAB. The team thought that if the Human Harp can play a giant bridge, surely it could play an industrial building like the Roundhouse. Visitors will be invited to test twelve new Human Harp instruments that have been developed specifically to play the structure of the Roundhouse.
Human Harp LIVE-LAB will be located on the 1st floor for the Roundhouse for the month of August. Open to the general public from 4-29 August, the residency will feature talks, workshops, and pop-up performances.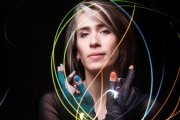 A 4 day festival curated by the Grammy Award-winning Imogen Heap
Essential Info
Suitable for all ages