Human Harp LIVE-LAB will take place at the Roundhouse throughout the month of August. Artist Di Mainstone and a team of students, alumni and researchers from Queen Mary University of London; and engineers, musicians and designers from across East London and beyond will collaborate from a pop-up laboratory located on the venue's 1st floor. Designing, building, testing and performing – the team aim to create a sonic instrument for the 21st Century – The Human Harp.
Based on the device used to play the Brooklyn Bridge, the Human Harp clips on to the cables enabling the user to play the structure like a giant instrument. It attaches the person to the structure via retractable strings, and as the strings are pulled the deep vibrations running through the cables are unleashed. By manipulating and twanging these musical strings the user can adjust the pitch, intensity and volume of the structure's voice.
The team thought that if the Human Harp can play a giant bridge, surely it could play an industrial building like the Roundhouse. Visitors will be invited to test twelve new Human Harp instruments that have been developed specifically to play the structure of the Roundhouse. This residency will feature talks, workshops, and pop-up performances.
Humanharp from humanharp on Vimeo.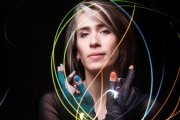 A 4 day festival curated by the Grammy Award-winning Imogen Heap
Essential Info
Open Monday – Friday 12pm – 5pm (open all weekend 21 – 24 Aug).
Suitable for all ages.