Arboreal Lightning is an interactive installation for exhibitions and performances that transforms sound and gesture into an immersive luminous environment.
A lightweight central structure bundles together a series of LED-strip fibres that burst from the stage & soar above the performers, luminously reacting to sounds and gestures. The 'branches' arch along the Roundhouse structure, a few bowing down into the audience – rewarding participatory interaction.
Arboreal Lightning was commissioned from Atmos by Imogen Heap as the centrepiece for Reverb 2014, and has grown to be resident centrepiece for the Roundhouse's Summer Sessions.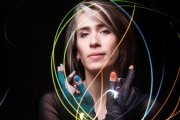 A 4 day festival curated by the Grammy Award-winning Imogen Heap
Essential Info
Arboreal Lightning will be open to all Reverb Main Space ticketholders during performances – non-ticketholders can access during the following times:
Thu 21 Aug: 11.30pm – 12am
Fri 22 Aug: 11pm – 1am
Sat 23 Aug: 11pm – 1am