By Marcus Davey, Chief Executive and Artistic Director
Tuesday 14 July
Over the last few weeks I, along with other Directors and the wider staff team, have taken the time to listen and learn from our colleagues and peers in response to the Black Lives Matter movement and understand our roles more fully as individuals and as an organisation to combat racism and drive long-term change.
We have taken time to bring our staff team together to talk about this and determine our pledges as an organisation. We will update you on our progress against these goals every six months and this is why we are sharing these with you, so that our staff, young creatives, artists, audiences, partners and funders can all hold us to account if we don't meet these goals at any point. We will also add to these goals as we reopen, and as we begin to look to the future.
Our commitments are as follows:
1. We had set ourselves the target that 40% of our board should be people from BAME communities and backgrounds by 2023 – this figure reflects the London population – but we will extend this target to our permanent workforce. This should be across the entire workforce and not just within entry level roles and in all cases the 40% should include at least 13% Black team members, again to reflect the London population.
We also want to note that we're using the term BAME for monitoring in line with the last UK census as a way of measuring and holding ourselves to account, but we will not use this term when talking about individuals and will be specific in our reporting.
We know statistics are only one side of the story but this is where we are now, we have 133 permanent members of staff, of those 21 are on our senior management team (SMT), and we have 18 board members. This is just a breakdown of the ethnicity of our staff and board members – we will post a fuller picture of the diversity of our staff over the coming weeks.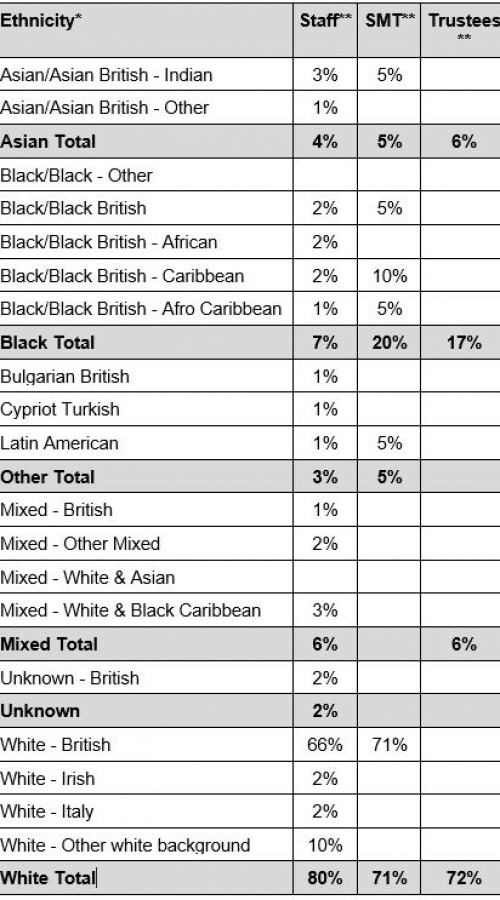 2. We will publish our Ethnicity Pay Gap at the end of each financial year, alongside our Gender Pay Gap data.
3. We will undertake a review of our recruitment strategy and progression routes within the organisation and set individual team strategies where there is a lack of diversity.
4. We will roll out a series of anti-racism training for all staff, leadership teams and board.
5. We have a cross-organisational Diversity and Inclusion Working Group but we will open up better channels of communication into and out of this group for ideas and suggestions and to share the work of this group more widely. Alongside this we will start a Black or people of colour network – this will depend on what our staff members want after a fuller consultation process.
6. There is a clear disparity between the amount of Black artists that we work with through our own artistic programme and the commercial events and gigs that hire our space. To address this we will develop better relationships with Black promoters and talent and develop a financial model whereby we can ring-fence time in our commercial calendar to platform Black musicians.
7. We will continue to amplify underrepresented voices through the work we produce and the work we present, this includes an ongoing commitment to programming and supporting the development of work by Black artists.
8. We will create a series of diverse leadership profiles to be shared across our website and social media to amplify people working in our organisation, their progression routes and industry advice. This will be aimed at young people aspiring to work in the sector as we recognise the importance of seeing people like yourself in leadership positions.
9. We will use our annual Driving Change event to learn from the sector and focus on the experiences of Black people in our sector.
10. It's important that we do all we can internally to achieve greater equality but we can also influence how other organisations work. Therefore, we will ensure suppliers and contractors across the business adhere to our diversity and inclusion values and that this is reflected in our tender process and contracts.
*These are not the only options available for staff and trustees – but these are the only ones where we have representation across the workforce. We have also summarised for ease of reading but it's important to us that staff can self-identify. Our Trustee data is grouped as this is what we have available at this time.
**Totals are above 100 due to rounding