Language and power: Talia Randall on What Words Are Ours?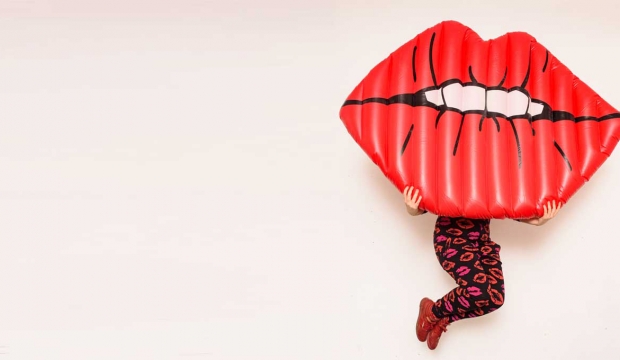 Performance artist Talia Randall will debut her new show What Words Are Ours? as part of the And Now What? season next month. We catch up with the lady herself on why she chose to make a "text-based cabaret variety show" and the power of words.
Hi Talia, your new show What Words Are Ours comes to the Roundhouse for one night only next month, can you tell us a bit about the show?
What Words Are Ours? is a bold, playful and joyous poetry cabaret showcasing artists who are working with text, poetry and spoken word in groundbreaking and highly entertaining ways.
We've got a performance fusing drag and rap, artists experimenting with sound art and poetry, punk picture-poems satirising 'white liberal proverbs', and we'll be showcasing specially commissioned work exploring Polari – an underground language used in gay subculture that has a fascinating and defiant history.
What inspired you to make a show about the power of words?
This is not so much a show about the power of words but more about power itself. Words have kept us down, held us back and locked us up, but at the same time words have freed us; we have found ourselves and reclaimed ourselves with words.
The words we speak, the language we use and how we communicate is inherently political and intrinsically about power and I wanted to create a fun, bold, text-based variety show exploring these themes.
Can you tell us a bit more about the artist line-up?
We've got four incredible acts so far and a few more performers up our sleeve that we'll be shouting about soon.
Poet, playwright and performer Hannah Silva will be sharing an extract from her critically acclaimed show Schlock!, whilst UK Poetry Slam Champion Toby Campion will be performing new work created especially about the Polari language.
Jacob V Joyce will be sharing their satirical picture-poems alongside other new work. Drag rapper and lava-tongued fierce-mover The Phoenix will be spitting fiery raps and breakneck moves.
I'll also be the resident poetry-clown hosting the night and sharing snippets of my own new work.
Without giving too much away, what can audiences expect and what do you want them to take away from your show?
Hopefully laughing one minute, crying the next; challenged, surprised, moved and entertained.
I want us all to leave questioning how we communicate; I want us to explore the political nature of the language we use in day-to-day life; to question our own power and what we should do with it.
It's gonna to be good. Come.
Image © Mike Massaro