What and who it is: +/- Human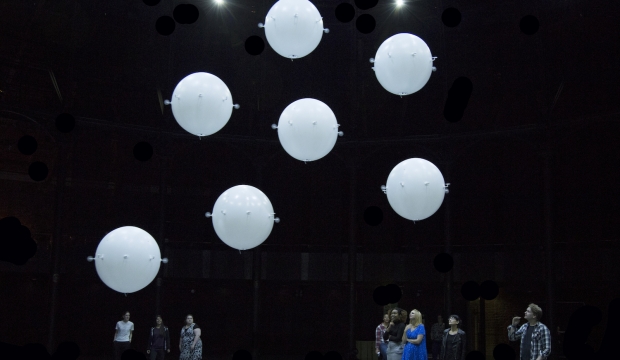 Now that the doors to +/- Human have been flung open, we thought we'd give you a bit of background around what it's all about and who's involved.
What's what?
+/- Human
Where an immersive installation, incredible live dance and original music combine.
This installation was created specially in response to our unique space. +/- Human brings together multi award-winning choreographer and director, Wayne McGregor, with contemporary art collective Random International, creators of the globally successful Rain Room, along with new music from iconic electronic music label, Warp Records.
The installation
The big question that the installation explores is: How do you know that something is alive? Created specifically for +/- Human, Random International's Zoological is a mysterious flock of flying orbs that surround you. You will step inside and experience the different ways they interact with humans and move together, in this meeting of technology, bodies and electronic music composed by Mark Pritchard.
Dance
On Friday and Saturday nights, the space takes on a new energy. +/- Human will host exciting new dance performances choreographed by Wayne McGregor. The orbs' movement will interact with the dancers to the extreme sonic worlds, specially created by Warp Records artists including Clark, Gaika, Mark Pritchard and Lorenzo Senni. The performers will be dancers from Company Wayne McGregor, The Royal Ballet as well as a special performance on 12 August, which will include young people from our +/- Human accompanying project.
Who's who?
Studio Wayne McGregor
Studio Wayne McGregor is the creative engine for choreographer and director Wayne McGregor. It includes his ensemble of world-class dancers as well as his Company Wayne McGregor (a selection of international commissions and artistic collaboration, a programme of creative learning for individuals and communities, artist development initiatives and collaborative research projects across the interface of the arts with science, technology and academic research). In March 2017 Studio Wayne McGregor opened a new creative arts space for making at Here East, Queen Elizabeth Olympic Park in east London. It is the new home for Wayne and his company of dancers, and a unique resource for artists and communities.
Random International
Founded in 2005 by Hannes Koch and Florian Ortkrass, Random International is a collaborative studio for experimental practice within contemporary
art based in London and Berlin. Questioning aspects of identity and autonomy in the post-digital age, Random International's work invites active participation. Their work Rain Room, first exhibited at the Barbican and then internationally, saw the construction of a large-scale environment of continual, responsive rainfall. Exhibited internationally, the studio's work is in the collections of MoMA, LACMA, and Victoria & Albert Museum.
Old friends – A history of collaboration
Studio Wayne McGregor and Random International have an almost 10 year history of collaboration, having worked together on a number of large-scale public installations exploring human and technological interactivity.
These include:
McGregor commissioned Random International's Audience for his Deloite Ignite Festival in 2008 Royal Opera House
Their creation of the scenography for Company Wayne McGregor's 2010 piece

FAR

.
Company Wayne McGregor has also performed choreographic interventions within Random International's performative light installation Future Self and within their acclaimed Rain Room installation at the Barbican.