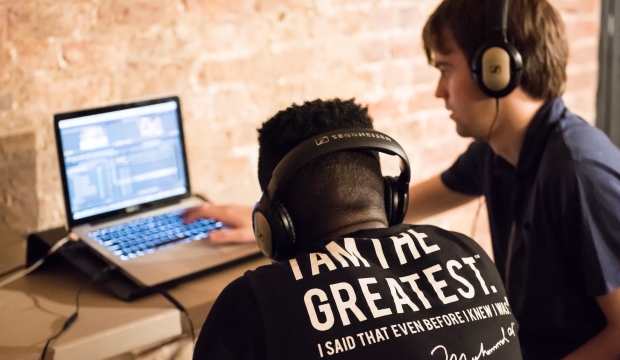 Not sure uni's for you? Apprenticeships can be a great way to get hands on practical experience whilst you learn. We offer a year-long apprenticeship with Sadler's Wells Theatre in Technical Theatre, which covers everything from sound, light and stage (and you are shown the ropes by the technical teams in both venues). Curious about whether they could be a good option for you? We caught up with Carole and Kurtis, our Techincal Theatre apprentices to find out what's it's like…
What made you want to become a theatre technician?
Kurtis: When I was at college I was sure I wanted to be an actor. However, I started to have doubts about it so a teacher asked me if I wanted to help out with some backstage work for a dance show. I went for it and ended up really enjoying it and wanted to learn more about the backstage world of theatre.
Carole: I love writing music and I wanted to be able to record and mix my own songs as well, so I decided to learn about sound engineering; from there it just kind of progressed into an interest in technical theatre in general.
What new skills have you learnt?
Kurtis: So far what I have learnt since being on this apprenticeship is how to rig up any type of light and know how to spot any fault in them. Also, how to program lights from a lighting desk and how to put cables away safely.
Carole: I have learnt about different aspects of theatre, such as how to use different types of lighting desks, rigging, putting together stages. I even had the opportunity to do fork lift training, which was really exciting and is a useful skill to have.
What are you looking forward to most throughout the next year?
Kurtis: What I'm hoping to be able to do by the end of the year, is to be fully capable of setting up, programming lights and operating the lights on shows by myself, without any help. It would be good to see if, in the future I could become a technical manager.
Carole: Learning more about everything and getting more experience in different areas, becoming more confident in the work I do and as a part of the team, and of course the Blondie gig coming up soon!
What has been the best part of your apprenticeship up until now?
Kurtis: Learning about what kind of different lights can be used for setting up a show. Being able to solve a problem without asking for help and having so much support from everyone around me.
Carole: I was able to run sound for a small show by myself. It was really difficult as I was using a new desk and was pressed for time, but it taught me a lot and I felt really proud of myself afterwards so it was a great experience.
What advice would you give to young people considering an apprenticeship?
Kurtis: An apprenticeship will allow you to learn and work at the same time. If you don't believe that university is for you then apply for an apprenticeship. Also, if you want to do something in the arts, but don't want to do anything that involves performing in front of hundreds of people, then backstage theatre is for you! A lot of people don't realise that without the backstage crew, there wouldn't be any shows.
Carole: If you find one that looks really good, just go for it – opportunities like this can be really hard to find, so it's a risk worth taking. You get amazing real life experience in a proper working environment, you get treated like an adult (but with a little less pressure), and you learn so much, it's honestly just an awesome thing to do, especially if you don't want university debt.
More information about apprenticeships: https://www.gov.uk/apprenticeships-guide
Find an apprenticeship in the creative industries: https://ccskills.org.uk/careers/jobs
Work at the Roundhouse: http://www.roundhouse.org.uk/about-us/work-at-the-roundhouse/current-vacancies/