Meet one of our partner schools: Regent High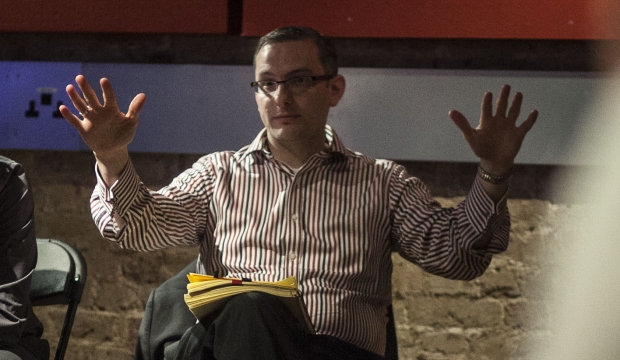 We catch up with Richard Harrison and Anna Blackman from Regent High School to find out how they've worked with the Roundhouse and Camden's Cultural Commissioning Model and hear their tips to incorporate creativity in the classroom
Tell us a bit about your school
Regent High School is a co-educational comprehensive school with over 800 students, based in Somers Town in the London Borough of Camden. Regent High School offers students an inspiring and dynamic curriculum within a state-of-the-art building that provides excellent facilities for its five Learning Communities. The school holds Gold Artsmark status and offers students an exciting range of creative and cultural learning opportunities throughout their school life. Our diverse school community speaks over 38 languages, with 86% of students speaking a language in addition to English.
Located in the heart of London, we have a flourishing network of partners that enrich and strengthen our curriculum offer. These partners include Rothschild, British Land, UCL, Regent's University London, Central Saint Martins College of Arts and Design, Roundhouse and the British Library, with students able to access hands-on experiences with these partners such as mentoring, work experience and practitioner-led workshops.
Somers Town is in the St Pancras and Somers Town ward, which is in the most deprived 5% of neighbourhoods in London in terms of socio-economic poverty. 50% of our students are eligible for free school meals and 70% have Pupil Premium status, which aims to raise the attainment of disadvantaged pupils and close the gap between them and their peers. The economic poverty within the area directly affects our students as they often have very few creative and cultural experiences outside of school. This has informed our commitment to providing excellent creative and cultural education at the school and in the partnerships we develop.
How does Regent High currently work with the Roundhouse?
Staff at Regent High School regularly access the Roundhouse Teachers' Network for opportunities to develop knowledge and skills within the performing arts; most recently this has been through an inset offered by spoken word artist Mark Grist and the workshop and performance opportunity that accompanied the Roundhouse's co-production of Orfeus with the Royal Opera House. Staff are able to apply the knowledge and skills developed in these sessions in the classroom. The Roundhouse Teacher's Network also provides us with an opportunity to meet staff from other local schools and cultural organisations to share good practice and information about opportunities within the arts.
We have been a member of the Camden Cultural Commissioning Model (CCM), since early in the programme's development. We see our participation in this programme as of vital importance to our students and staff, as it provides an opportunity to develop projects and experiences with partners in cultural organisations that can have a direct impact on our students' attainment and socio-cultural development. We see the CCM as a method for developing our practice further in being able to work with existing partners and new partners, and with other schools and colleges in Camden. The notion of collaboration is important to us, and the CCM provides an opportunity to collaborate with education and cultural partners to develop work that is targeted, appropriate and innovative. We are proud to be a member of the Governance Board that is working to embed the CCM further into the work of schools and cultural organisations so that its important and much-needed work is able to continue.
What kinds of opportunities have you been able to get involved with?
Staff at Regent High School have developed a deeper understanding and practical knowledge of Arts Award and how it can be delivered within a school setting. We have also received training on the use of Artsbox as a tool for developing a virtual portfolio. These advisory sessions and the knowledge that support is available by e-mail and phone are supporting our work to increase the number of our students able to access and complete Arts Award.
Staff attended an Artsmark briefing at the Roundhouse to understand the process for re-submitting an Artsmark application, and explore the current Artsmark criteria. Through this session we were also able to meet colleagues in local primary schools and suggest ways that we might work with them.
As a school we are exploring project opportunities with Camden Arts Centre, using the CCM as a way of developing a project to further support students' entries into higher education.
Students on our Key Stage 5 course have worked alongside spoken word artist Kat Francois in a devising workshop that informed their practice ahead of the development of their final BTEC assessed piece.
Students in Key Stages 4 and 5 have visited the Roundhouse to watch Non Zero One, an immersive theatre company, which broadened their understanding of performance and how the boundaries of theatre can be pushed.
Last academic year we had an opportunity to take our Year 12 BTEC Performing Arts students to see Puffball at the Roundhouse. This production challenged their conceptions of theatre and performance, and was preceded by a workshop with members of the company that provided students with additional tools for devising their own work.
The Roundhouse has also provided opportunities for Key Stage 4 Music students to tour their facilities and meet with members of staff to understand the breadth of careers available in the music industry. This offered an industry perspective on the desk research started in class.
Do you have any top tips for other schools looking to incorporate more creativity into classroom?*
Dedicate a budget to be able to bring practitioners into the classroom to enrich the curriculum.
Ensure senior leaders understand the importance of cultural and creative education, and are supportive of taking students out of school and into world-class arts venues so that students can experience art in specialist spaces and become comfortable with the range of venues and cultural opportunities available across London.
Develop enduring and multifaceted relationships with local arts organisations with which you can collaborate in a range of ways.
What's been the best thing about working with Roundhouse for your school/students?
Being able to access the very best contemporary artists and companies both within a local world-class arts venue and the school environment.
It is also powerful to be able to signpost students to the Roundhouse's extra-curricular provision so that students can develop their creative talents independently of school.
The Teachers' Network and

CCM

have also been important tools in developing relationships with other schools and colleges and the rich diversity of cultural organisations in Camden.