Introducing the Grassroots Radio Network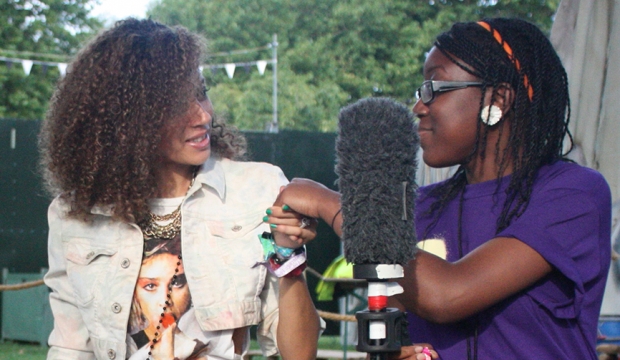 The Grassroots Radio Network brings together internet and community radio stations across the UK to help support young radio makers. Youth blogger Hazel Stockton went along to a Grassroots meet-up to find out more…
At first glance, the meeting of grassroots radio stations at the Roundhouse felt intimidating. The intimate circle of industry professionals in a spotlighted room was a venture into the unknown. It soon became clear though that this network was about inclusivity, with young people at the heart of the project. Across different grassroots platforms – podcasting, community radio, online stations – the network shares ideas about how to support young people to produce original, diverse and free-thinking content.
The Grassroots Radio Network wants to shout louder about the amazing radio being made by young people.
The question is though; why should people listen?
Radio station Podium with its team of 240 young journalists from all around the country, is a great example of why youth broadcasting needs our attention. It began when founder Camilla Byk approached some young people cleaning up after the 2011 Clapham riots. She heard their stories and asked if the media had spoken to them – to a resounding no. Unable to let their story go unheard, Camilla recorded them right there and then. Podium collaborates with BBC Radio 1's The Surgery because of its ability to draw in a huge diversity of young voices.
Plus, these youth stations are often way ahead of the game. Take Reprezent, which was the first to play artists like Disclosure and Jessie Ware. Many of the young radio makers volunteering at Reprezent also have a central presence at BBC 1xtra and BBC Asian Network, showing just how innovative this talent is.
Ultimately, the next generation of radio makers are working in youth broadcasting now, and that's why it can be such an exciting space. This April, the Roundhouse's very own youth led station, Roundhouse Radio will be taking the opportunity to really showcase this via a brand new interactive installation in the Roundhouse hub called Step Inside Radio. The installation – featuring drama, spoken word and documentary shorts – is made by young people collaborating with digital artists and will include audio from other stations in the Grassroots Radio Network, like Resonance FM, Reprezent and Reform Radio in Manchester. By collaborating with one another, these stations are giving young people the space to take creative risks and thrive.
Underestimate these guys at your peril; the Grassroots Radio Network is going to cultivate the presence of youth radio. And rightly so.
_> The Grassroots Radio Network stations include Bang Radio, Reprezent, Roundhouse Radio, Future Radio & Reform Radio
> Book your free tickets for Step Inside Radio, taking place on the 25 April at the Roundhouse.