Harriet Harman: the arts must reach out to young people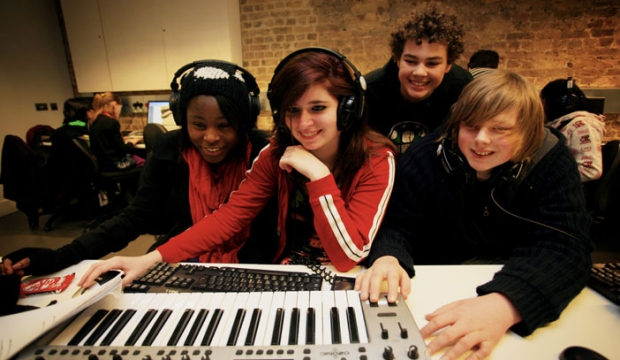 Today, we welcomed the shadow culture secretary Harriet Harman to the Roundhouse for the launch of a new consultation on arts policy and young people. The consultation will pave the way for the Labour Party's commitment to the arts in its manifesto.
Harriet spoke passionately about the importance of opening up access to the arts for all – especially young people, but to all parts of our society.
I fully support Harriet's call to arts organisations like the Roundhouse – a call which echoes that of the culture secretary Sajid Javid last week – to ensure that we aren't the preserve of the more traditionally arts-engaged sections of society, but instead that we're constantly reaching out to new and ever more diverse audiences.
It's no coincidence that the Roundhouse was chosen as the venue to launch this consultation. We're becoming increasingly well-known for our pioneering work with young people, particularly with those from the most disadvantaged backgrounds. Every year, hundreds of thousands of audience members come to see incredible shows at the Roundhouse – from music to circus, theatre, spoken word and more. Fewer people know that every year, we work with around 3,000 11-25 year-olds, who experience creative projects that help them unlock their creativity and go on to build bright futures.
It means that since the Roundhouse re-opened eight years ago, more than 20,000 young people have taken part in creative projects in the Paul Hamlyn Roundhouse Studios, a dedicated creative centre beneath our Main Space. It's incredibly important to us that around 60% of those young people are facing significant socio-economic disadvantage and that their experience here often comes at a time when they may feel the system has failed them. We can reach out and offer experiences that can be the start of a journey to a positive future.
When we're describing the incredible value of the arts in our society, we often talk about the huge contribution that the arts and the wider creative industries make to our economy. That is of course of central importance, but when we reference the wider value of arts education and engaging young people with arts and culture, we're talking about something much, much deeper than that. We know that some of the young people we work with here at the Roundhouse have gone on to build brilliant careers in the creative industries. But others have been proven to take away something more fundamental than that – improved confidence and self-esteem, stronger team-working skills, a reduction in social isolation. And importantly, they've generated their own individual employment pathways.
Research carried out on our data for Camden Council has also shown that 43% of all local young people engaging with our programmes are from black and ethnic minority backgrounds. A recent report by the New Economics Foundation exploring diversity and inclusion in our work concluded that "the majority of our young participants spoke about the positive effects of being a part of a diverse group, with personal, creative, social and political benefits borne of greater exposure, understanding, insight and appreciation". In short, a vital part of what we do here is to help people to learn more about other people's lives. It shows the huge power of the arts as a social leveller.
I was incredibly proud that today, two young people who have been supported by the Roundhouse's creative programme spoke alongside Harriet Harman. One of those speakers, Dana Segal, now works for the Roundhouse as part of our Development team. The other, Adem Holness, is a young member of our board of trustees. Dana said something in her speech that really resonated with me: that a creative education has allowed her to be the best person she can be. And that is the most important message for me from today – that the value of the arts, and particularly of arts education, is incredibly profound to us all in ways that are often unexpected and unacknowledged.
That's why I'm a passionate advocate of What Next – a movement bringing together arts and cultural organisations from across the UK, to articulate and strengthen the role of culture in our society. Through What Next, we want to engage the public in new and different conversations about how and why the arts are important, and become a catalyst for fresh thinking and new policy ideas.
The work we do at the Roundhouse wouldn't be possible without the support of the many people who so generously support us every year. We know our work is vital, and we hope you share our passion – find out more about how you can get involved and support our work today.