£60 – Golden Festival Passes allow you access to all Ja Ja Ja Festival shows on 8 & 9 November, including two after-show parties. To purchase a standard day ticket for Friday 8 November for £25, click here. Saturday headliner and full line-up to be announced in the coming weeks.
Some of the biggest names in Nordic music are set to perform at a new two-day event at the Roundhouse on November 8 – 9.
Mew (Denmark) and múm (Iceland) are the first artists announced to play Ja Ja Ja Festival – a showcase for the best of new Nordic music, film and food. An evolution of the much loved Ja Ja Ja club night (hosted at The Lexington) and taking advantage of November's dark winter ambience, Ja Ja Ja Festival is a joint collaboration between Ja Ja Ja Music, the Roundhouse and Nordic Culture Fund.
Mew's appearance at Ja Ja Ja Festival will be their first London show in over four years. The critically acclaimed three-piece is currently recording their sixth studio album, the follow-up to 2009's 'No More Stories…'. Earlier this year, Mew announced they were going independent in order to seek out the best opportunities to maximize their creative output. The first fruits are a groundbreaking collaboration with Bang & Olufsen's brand B&O PLAY with whom Mew are creating a new experience with sound and music
Playfully combining analogue and electronica sounds, múm gained global attention with their second album Finally We Are No One in 2002. Renowned for their stunning live shows, the Icelandic collective return this month with a new single, Toothwheels, with an album to follow on Morr Music in 2013.
Making full use of our iconic venue, Ja Ja Ja festival will also feature new Nordic food and documentary film screenings. Additionally, the Roundhouse will act as home to the Ja Ja Ja club night for the duration of the festival – bringing 6-8 up-and-coming Nordic artists to the Studio Theatre.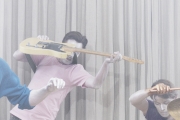 Some of the biggest names in Nordic music are set to perform at a new two-day event at the Roundhouse on November 8 – 9. Mew (Denmark) and mùm (Iceland) are the first artists announced to p…