Alice Allart presents a stunning circus performance that delves into the depths of the mind of a solitary woman.
With trick cycling, slack rope, aerial and object manipulation, Triptych explores different levels of delusion through moving choreography and narrative.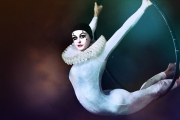 Five weeks of contemporary circus from around the globe.
Essential Info
This production takes place at Jacksons Lane, 269a Archway Road, London N6 5AA.