Come and have a play in our tech playground.
Explore and interact with Kinect movement software and use technology to create your own one minute video.
Run away with the circus at the CircusFest Take Part Family weekend! Come and have a go at circus skills including hula, acrobatics, street dance and aerial, join us in the Tech Playground for free workshops, watch great pop-up circus performances, and enjoy all the fun of the circus with activities, crafts and stalls selling food and drink.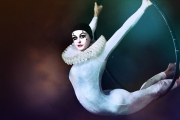 Five weeks of contemporary circus from around the globe.
Essential Info
Free entry
Suitable for most ages and all abilities
Drop-in: 12.30 – 4.30pm
Workshops: 1 – 1.30pm and 3.30 – 4pm