A wild evening of variety curated by Roundhouse Associate Artist Scottee and some of the very worst dyke-y, faggy, tranny, queer variety show-offs this great Isle has to offer!
The line-up includes the infamous hanky lady Ursula Martinez and her real life hula hooping wife Jess Love, first lady of alternative drag Jonny Woo, tongue twisting lip syncher Dickie Beau and the winner of Baghdad's Got Talent!
A mini bar will serve camp beverages with a bad attitude throughout.
SAVE

15% –

BOOK

TWO

OR

MORE

CIRCUSFEST

SHOWS
Terms and conditions apply. Find out more.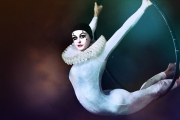 Five weeks of contemporary circus from around the globe.
Essential Info
*Fees are £1.50 per transaction.
Age Guidance: Over 18s only
Thursday 24 April line-up
Jonny Woo, Dickie Beau, Ursula Martinez & Jess Love, Baghdad's Got Talent
Friday 25 April line-up
Scottee, Jonny Woo, Dickie Beau, Ursula Martinez & Jess Love, Baghdad's Got Talent
Saturday 26 April line-up
Scottee, Jonny Woo, Dickie Beau, Ursula Martinez & Jess Love, Baghdad's Got Talent