Following his album release on 9 March, Ghetts will headline an unmissable night at the Roundhouse, performing alongside the OnTrack project participants – the OnTrack Collective – plus Roundhouse Associate Artists and Funk Da Cirque. This show will see brand new collaborations between street circus artists, DJs, MCs, remixers and the very best emerging artists on the scene today.
OnTrack is a 6-week music production, DJ and performance project for 16-25 year olds who are working together to create original music to perform at this live music gig as part of CircusFest 2014.
The 2014 OnTrack Collective presents: Black on Black
A diverse, energetic group of singers, rappers, performers, producers, DJs and entertainers from across London:
Brenton – Singer/Producer / Brown – Rapper / Chakra Raheem – Rapper / George Landy-Sabine (Cultured Link) / James Anderson (Cultured Link) / Jesus London – Songwriter/Singer/Rapper / JJ – Singer/Producer/Musician / Lara Simpson – Producer/Singer/Loop Pedal / MC Doubzy / Melanie – Singer / Olivia Au (Foreign) – Artist/DJ / RubyRosa – DJ/Producer/Singer / Sabe – Producer/Rapper / Sarah Eliza – Singer/Songwriter / Slutterer/SLTR – Rapper/Producer / Springrocks – Dubstep Artist
Supported by The Austin and Hope Pilkington Trust, Universal and the William Wates Memorial Trust.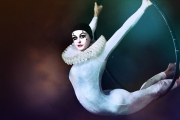 Five weeks of contemporary circus from around the globe.
Essential Info
*Fees are £1.50 per transaction.
Under 16s to be accompanied by an adult.